August 7, 2023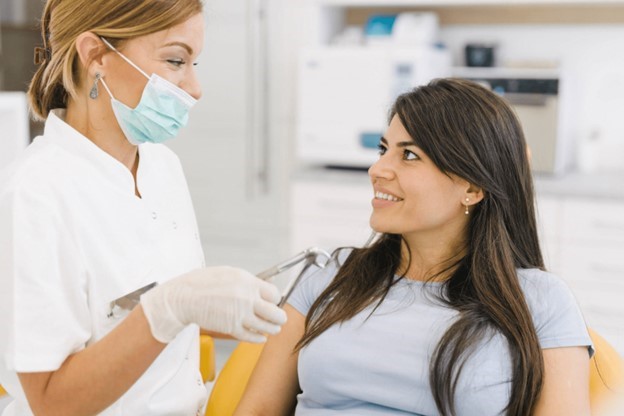 Losing one or more teeth can significantly dent your self-confidence. Fortunately, with a remarkable 95% success rate, dental implants offer a robust, trustworthy, and natural-looking solution for replacing missing teeth and restoring much of your bite strength. Despite the numerous advantages they provide, some individuals may harbor concerns about undergoing the treatment. What's the sensation like when they're in your mouth? Continue reading to discover the tactile experience of dental implants in your mouth and how they can enhance both your oral and overall well-being.
How Dental Implants Feel
Dental implants consist of tiny titanium posts carefully placed into the jawbone, forming a strong bond through osseointegration. Once fully healed, they become as stable and enduring as your natural teeth. Similar to any surgical procedure, getting dental implants may entail mild discomfort, and you might encounter novel sensations while eating, as your mouth adjusts to them.
However, within a week or two, your dental implants will feel as comfortable and familiar as your natural teeth. Nonetheless, complete healing and integration with your jaw typically take four to six months.
5 Benefits of Dental Implants
Once you've acclimated to your dental implants, and the initial discomfort has diminished, you'll be able to fully embrace the array of advantages they provide, such as:
Realistic results – Dental implants seamlessly integrate with your smile, giving them a realistic appearance that's hard to distinguish from your natural pearly whites to the untrained eye.
Improved chewing – Dental implants can restore a minimum of 80% of your bite strength, enabling you to enjoy nearly any food without difficulty.
A long-lasting solution to missing teeth – Because dental implants bond with the jawbone, they have the potential to endure a lifetime when properly maintained.
Comfort and stability – Compared to traditional tooth replacement options like dentures, dental implants offer superior stability and comfort because they do not shift within your mouth.
A more confident smile – Dentures have a reputation for moving within the mouth while speaking or eating. However, this issue becomes obsolete with dental implants! They grant you the confidence to smile, eat, and speak without worry.
Now that you're more informed about what dental implants entail, are you prepared to proceed with treatment? If the answer is yes, contact your dentist to schedule a consultation, and you'll be well on your path to achieving the smile you've always wanted!
About the Practice
For residents residing in the Mesquite region seeking top-notch dental care, Dr. Byron McKnight and his proficient team are at your service. They provide comprehensive care to patients of all ages, dedicated to enhancing smiles in their community. Offering tooth replacement solutions like dental implants, they're available to address any inquiries about the experience and expectations. To inquire about their tooth replacement options or arrange an appointment, contact Dr. McKnight's office at (972) 698-8000 or visit his website.
Comments Off

on What Do Dental Implants Feel Like?
No Comments
No comments yet.
RSS feed for comments on this post.
Sorry, the comment form is closed at this time.