Dentures – Mesquite, TX
Comfortable, Functional, & Natural-Looking Smiles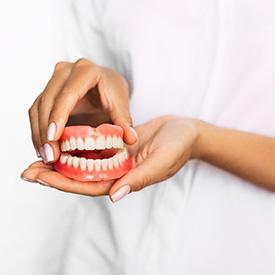 Thanks to advances in technology, dentures and partials don't have to be uncomfortable or cause embarrassing moments anymore. Dr. McKnight can create comfortable dentures and partials that look natural and allow you to eat and speak with confidence, restoring your smile to its original beauty…only better. Our precisely-crafted restorations are made of the highest quality materials for results that are reliably durable and seamlessly lifelike. What's more, we're proud to offer AVADENT™ DIGITAL DENTURES for comfortable, functional, and natural-looking smiles that are truly life-changing. Read on to learn more and give us a call to schedule your consultation!
Who Is a Good Candidate for Dentures?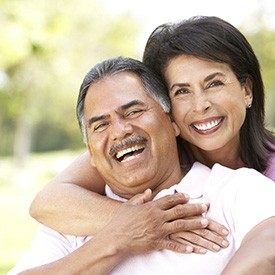 Studies and surveys report that over 35 million Americans are edentulous, which means they have no natural teeth. Of this group, about 90% wear dentures to regain their complete smiles. This classic restoration is an excellent choice for practically any adult facing moderate to severe tooth loss. The largest requirement is that your mouth is healthy and free of issues like decayed teeth and gum disease beforehand, as these issues can get worse with dentures and make wearing dentures uncomfortable. When you come see us for a consultation, we'll discuss your goals for your smile with your and examine your smile to ensure that dentures are a good choice for you.
Types of Dentures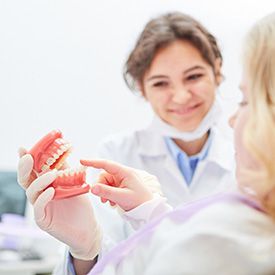 Once you've been cleared as a good candidate for dentures, we'll create a custom treatment plan for your unique situation. Each of our dentures is crafted precisely to meet the needs of each individual patient, from how many teeth they're missing to how they're like the denture to be secured into place. Dr. McKnight will assess your tooth loss situation and determine which replacement method—partial, full, or implant dentures—is right for you.
Partial Dentures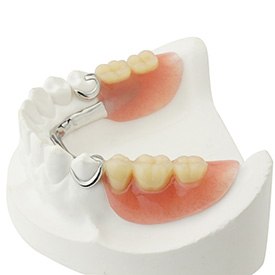 Partial dentures are designed to replace several missing teeth around the mouth. Like a puzzle piece, partials are designed to fit perfectly around and between your remaining teeth. Small, discreet metal clasps and wires wrap around your natural tooth structure to secure the partial denture, seamlessly filling the gaps in your smile.
Full Dentures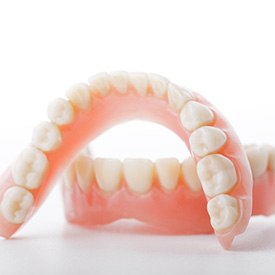 When you think of dentures, full dentures are likely the image that comes to mind. This restoration replaces an entire arch of missing teeth with a single restoration. The acrylic, gum-colored base is designed to fit snugly but comfortably on top of your gums, which creates a strong natural suction that stabilizes the denture.
Implant Dentures
Full and partial dentures can now be paired with dental implants, the gold standard for tooth replacement. These small metal posts are placed into the jawbone, where the fuse with the bone tissue to replace the missing roots of a tooth. Four to eight implants can be placed to anchor a denture in place, providing unmatched security, functionality, and more. We'll help you determine if you're a candidate for implant dentures during your consultation.
AVADENT™ DIGITAL DENTURES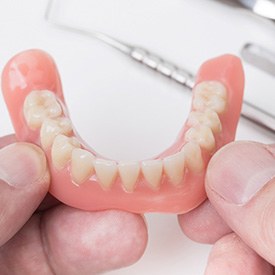 We are pleased to announce the incorporation of AvaDent™ Digital Dentures into our practice. As one of a select number of dental practices to offer this breakthrough digital CAD / CAM technology, Dr. McKnight can now create an AvaDent Digital Denture with a precise fit in just two appointments.
Traditional dentures can take as many as five or more appointments to make and still not give a patient the advantages found with AvaDent. The AvaDent process starts with one convenient record taking appointment to capture a patient's exact features. This information is then sent to AvaDent's Scottsdale, AZ facility where it is put into a computer and the denture is digitally designed and precision milled from a compressed, pre-shrunk disk of acrylic.
In addition to the precision fit and two appointment convenience, AvaDents are more bacteria resistant than traditional fabricated dentures to help eliminate sore spots and "denture breath." And, because AvaDents are digital, each one has a permanent digital record, so if they are ever lost or broken, they can be replaced quickly and easily without the patient even coming into the practice.
If you have a denture that isn't what you had hoped for, talk to Dr. McKnight about this amazing technology that can create the best fitting denture possible.
The Benefits of Dentures
Missing teeth can make it difficult to eat or speak and cause the facial muscles to sag, changing your appearance and contributing to wrinkles. Luckily, dentures and partials fill out the oral cavity, making you look more youthful and supporting your oral structures for increased health and functionality. Most individuals who've lost all of their teeth experience health problems due to nutrition issues, but dentures restore your ability to eat with freedom, making it easier to maintain a healthy diet. For those who've lost only a few teeth, partial dentures provide a healthier alternative to a dental bridge, which requires enamel removal.