Invisalign® Clear Braces in Mesquite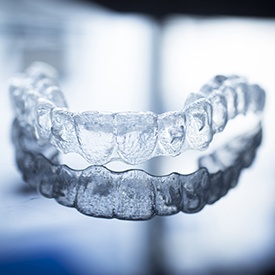 Have you ever wondered how straighter teeth could help you? You might be surprised by the answer. Besides improving the appearance of your smile, straighter teeth can also enhance your confidence, strengthen your relationships with others, and improve your oral health. What's more, you can do all that without ever wearing traditional braces. That's because, at Dr. Byron McKnight's dental office in Mesquite, we offer Invisalign--one of the leading producers and providers of clear braces.
Instead of using metal brackets and wires the way traditional braces do, Invisalign relies on a series of clear, custom-made aligners. Beginning with your first aligner, you'll wear each one for about two weeks before moving on to the next in the series, with one each bringing your teeth closer and closer to their ideal position.
The accuracy of your treatment with Invisalign will be due in part to the advanced planning that occurs beforehand. To create your treatment plan, Dr. McKnight will scan your smile with our Cadent iTero wand. Cadent iTero has brought dental impression into the 21st century. Instead of taking multiple impressions with messy, uncomfortable putty, we can capture detailed digital images of your teeth in just a matter of minutes. Then, once we've planned your treatment using your this impression, Dr. McKnight can send that plan to an Invisalign lab where your clear aligners will be carefully fabricated.
Discreet Orthodontic Care for a Healthier, Straighter Smile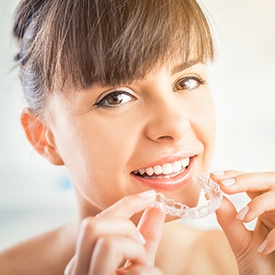 Besides being clear, there are other benefits to Invisalign that Dr. McKnight wants his Mesquite patients to know about.
First, because Invisalign doesn't use metal brackets and wires, fewer visits to Dr. McKnight's office are required. That means fewer disruptions to your busy schedule and a more comfortable treatment.
Second, your Invisalign aligners are removable. You can take them out to eat, brush, and floss. That means you never have to worry about cutting back on the foods you love, and you can take better care of your smile by brushing and flossing as thoroughly as you normally do. Traditional braces, by comparison, can make it hard to reach certain parts of your smile, making you more vulnerable to common oral health conditions like tooth decay and gum disease. But Invisalign ensures that you can thoroughly care for your teeth as your receive the orthodontic treatment you need.
Do you want a straighter smile that will boost your confidence and enhance your professional image? Dr. McKnight can answer any questions you might have about Invisalign. Our patients from Mesquite and beyond don't have to put their social and business lives on hold just to have straighter teeth. Instead, you can get the care you've always wanted right now, with greater convenience and comfort than you might have imagined.
Understanding the Cost of Invisalign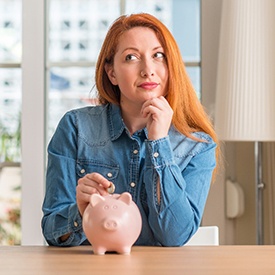 If you aren't eager to show off metal brackets and wires for the duration of your orthodontic treatment, Invisalign may be the solution that you've been looking for. When attempting to understand how much your Invisalign will cost, the truth is that it's impossible to know before you attend a consultation with us. During this visit, Dr. McKnight will examine your smile, formulate a treatment plan, and provide a clear estimate as to how much the cost of Invisalign will be. In the meantime, here are some things to take into consideration.
Factors that Affect the Cost of Invisalign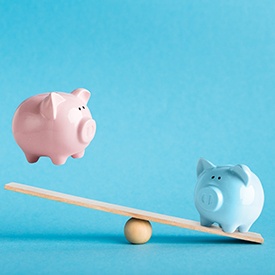 The cost of your treatment will vary depending on several different factors. Here are some of the most prominent:
Number of Arches: Most people who undergo Invisalign will have both their upper and lower jaw addressed. However, in some cases, only one arch needs to be corrected. In this situation, the cost is lower.
Complexity of Treatment: If you have severe alignment issues, your treatment is likely to cost more. Closing a few small gaps is cheaper than correcting a significant bite problem.
Treatment Length: A longer treatment time ultimately means additional aligners and a higher cost.
Invisalign VS Smile Direct Club™: Which Costs More?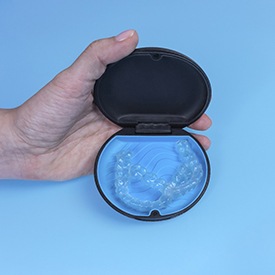 For patients who are looking for a "quick fix," lower budget options, like Smile Direct Club™, may seem tempting, but a lower cost doesn't necessarily mean that it's the best choice for you. While the price is generally lower than Invisalign, Smile Direct Club™ has a do-it-yourself approach with little to no oversight from a dental professional. This means additional room for error, and you could end up with serious issues that will need to be treated by a professional anyway.
When you opt for Invisalign, you have the trusted oversight of our dentist for every step along the way. Invisalign is professionally made, uses highly accurate impressions, and results in a more successful treatment overall. The difference in cost is worth it for a smooth, stress-free orthodontic treatment.
Does Dental Insurance Cover Invisalign?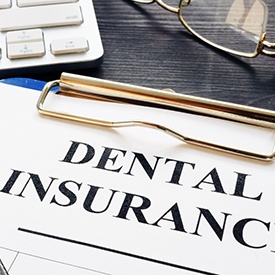 Only some dental insurance plans include coverage for orthodontic treatment, so you should check with your insurance provider to see if this is the case for you. If you have any questions regarding your dental insurance, talk to one of our friendly team members. We're happy to take care of filing your insurance claims.
Options for Making Invisalign Affordable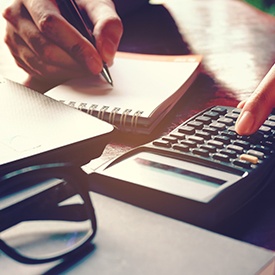 If you don't have dental insurance, this doesn't necessarily mean that you'll be left in the dust. We work with CareCredit – a third-party financing company that can split the cost of your treatment into manageable monthly installments with little to no interest. To learn more about your financial options, give us a call.
To find out exactly how much you can expect your Invisalign treatment to cost, schedule a consultation with us. We're looking forward to helping you achieve a straighter smile!
Invisalign FAQs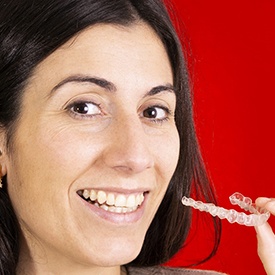 Invisalign can help to correct misalignment and give you that straighter smile that you've been dreaming of. However, choosing an orthodontic treatment is a huge decision, so it pays to be well informed. Here are the answers to some of the most common questions we receive about Invisalign in Mesquite. If you don't see the information that you're looking for below, don't worry. Just give us a call! We'd be happy to explain more about the treatment and get you started with an initial consultation.
What Does Invisalign Look Like?
Designed with clear plastic, Invisalign aligners are visible when outside the mouth, but difficult to detect once worn. With proper maintenance, patients can keep their aligners clean, clear, and discreet. Unlike traditional braces that require traditional brackets and wires, Invisalign's aligners allow patients to achieve a straighter smile without compromising their appearance. In some cases, patients may require attachments, buttons, or elastics that help during the alignment process. These are not made of clear plastic and are sometimes more visible than the rest of the aligners.
Does Invisalign Hurt?
Invisalign is not painful. In fact, its smooth plastic design makes it one of the most comfortable orthodontic treatment options. When you first get Invisalign, there is an adjustment period. You may experience slight soreness or discomfort that some might characterize as pain, but this will go away as you get used to the treatment. Invisalign works by gradually shifting your teeth into proper alignment by using a series of aligners. Each time you switch to the next aligner in the series, you may experience a small amount of pressure, but that just means that your treatment is working. To help with this adjustment, take over-the-counter pain relievers and use a cold compress.
Can You Eat with Invisalign?
One of the main advantages of Invisalign is that they are completely removable, allowing you to take your aligners out when it's time to eat. Eating with your aligners in your mouth can damage them, causing cracks and stains, and it puts unnecessary pressure on your teeth. The only item you should consume while wearing your Invisalign is water. If you want to enjoy anything else, you should take out your aligners first.
Can You Get Invisalign After Braces?
This all depends on your specific needs. Braces are better able to correct overbites, underbites, and crossbites that Invisalign cannot. If your teeth have grown crooked or misaligned after you've already completed treatment with braces, Invisalign will most likely be able to help with this problem. During your initial consultation, Dr. McKnight will examine your smile and determine whether or not Invisalign is the right option for you.