About Our Logo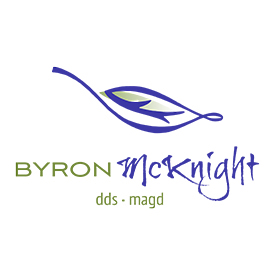 We believe that our logo accurately represents who we are as a practice and as individuals. It consists of two main images intertwined.
The first and most obvious is a leaf, which symbolizes much of what we strive for. While a single leaf blends in and almost becomes an invisible part of an entire living thing, a closer look reveals an intricately designed and functional marvel in and of itself. This is our goal with each element of dentistry we provide for our patients. Like a leaf, different levels of design and form come together to create a work of art that blends perfectly with its surroundings...each stands on its own functionally and esthetically and is a seamless part of the entire oral and facial complex. This blending of individual and overall beauty combined with function is the core of our focus, "where precision meets art".
The second image incorporated in our logo is more subtle, but it is very much an essential part of the design. In the interior of the leaf, you will see a fish. The fish (ichthus) has long been a symbol of Christianity, and here it represents our Christian commitment to caring, compassion, and missionary work. Several of us are active in local, state, and international efforts to reach out to those in need (if you are interested in participating in healthcare missions, just visit with one of us, and we would be happy to share some ideas with you.)
Our team strives to treat our patients as friends and care for each of them as an entire person, not simply a set of teeth. All that said, our logo is a creative expression of our passions and commitments. You will see the leaf throughout our office in many ways such as glasswork, living plants, and other decor. The fish, on the other hand, is something you will see in us.