Dental Bridges – Mesquite, TX
Fill Gaps in Your Smile with Lasting Restorations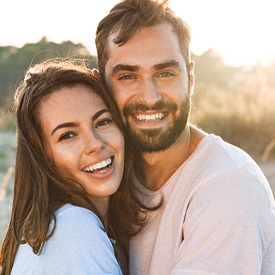 Losing your teeth may feel like a huge blow to your oral comfort and self-confidence, but you don't have to live with this kind of damage. If one or a few teeth are missing, crowns and bridges can easily fill the empty spaces. Dr. McKnight offers multiple types of dental bridges depending on your needs and preferences, so you can find a tooth replacement that you're most comfortable with. Give his office a call today to schedule a consultation!
What is a Dental Bridge?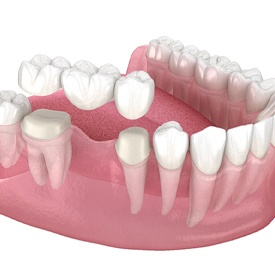 Dental bridges are essentially porcelain crowns fused together to create a larger restoration that anchors to existing teeth. Dr. McKnight uses the best materials to create custom dental bridges to bring back beauty to your smile. Our precision color matching will ensure that your bridge will look natural, meaning you can feel confident that your restoration won't be noticeable to those around you. And, by filling the gap in your smile, you will prevent neighboring teeth from shifting out of place, causing changes in your bite.
Types of Dental Bridges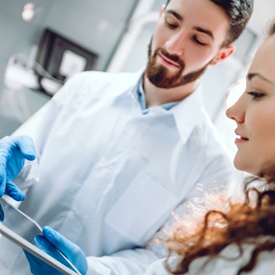 It's always a good idea to complete a consultation with a professional before receiving dental bridges. When you call our practice, Dr. McKnight's team will get you scheduled for an appointment so you can discuss your needs with him directly. During this visit, he'll break down the two most common types of dental bridges to consider. Below, you can read about their specific differences and the most ideal candidate for each.
Traditional Dental Bridge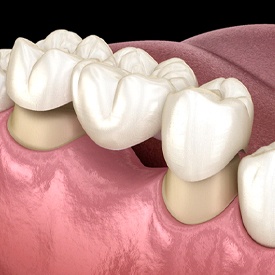 With a traditional dental bridge, a small amount of tooth enamel is removed from existing teeth sitting adjacent to the gap in your smile. This ensures the bridge has a stable foundation once it is attached. While removal of enamel is necessary, you can expect your new bridge to blend in exactly with your neighboring teeth and treatment to take just two appointments to complete.
Implant Bridge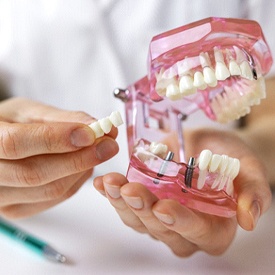 Dental implants are titanium posts that are surgically placed inside of the jaw so they can fuse with the bone tissue. Once fully healed and equipped with a dedicated abutment (or small connector), a bridge specifically designed to attach to dental implants can be placed. While implant bridges are more expensive and time-consuming to complete, they are longer-lasting and do not require removal of existing enamel.
The Benefits of Getting a Dental Bridge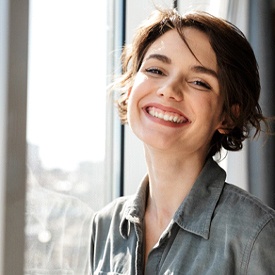 Some of the many benefits you can expect from your dental bridge include the following:
Keep existing teeth in place (rather than shifting into the open gaps in your mouth)
Be able to eat and speak clearly and confidently
Reduce your risk for future dental problems later in life (i.e. tooth decay and gum disease)
Maintain a beautiful smile you love to show off
Whichever tooth replacement choice you make, Dr. McKnight strives for perfection and relies on a team of dental health professionals that includes an expert ceramic technician, so you know that your care is in qualified hands.