Cosmetic Dentistry in Mesquite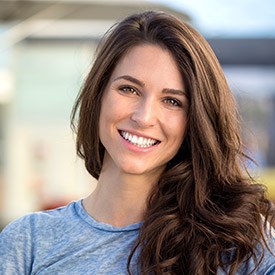 Showing off your gorgeous smile lifts your spirits and brightens the day of those around you. We want you to always feel like smiling, but if you suffer from cosmetic dental issues such as stained, chipped, gapped, or crooked teeth, being self-conscious probably prevents you from doing so. Offering a range of cosmetic dentistry procedures, Dr. Byron McKnight knows how to fix your smile imperfections and will have you lighting up rooms with your bright, beautiful smile in no time.
---
Our Mesquite Spa Dental Practice Provides Cosmetic Dentistry With Style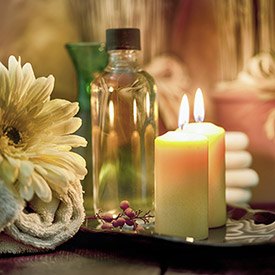 Rejuvenate your spirit while we rejuvenate your smile. Our office offers spa amenities to enhance your cosmetic dentistry experience with services that include aromatherapy towels and an on-site massage therapist. Our relaxing atmosphere will help ease any tension during your cosmetic bonding, teeth whitening, or porcelain veneers procedure.
Dr. McKnight can handle even the most complex cosmetic cases, so if you haven't been to the dentist in a while, no need to fear. And, if dental anxiety has you avoiding a much-needed smile renovation, take heart. Our office offers sedation dentistry to help you get comfortable and let go of worry.
Orthodontics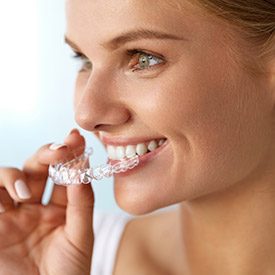 Teeth that line up the way they should look better, are easier to clean, and also promote better jaw health. If you are dealing with gapped, crowded, or otherwise misaligned teeth, it may be time to consider your options in orthodontics. We offer solutions for patients of all ages.
Porcelain Veneers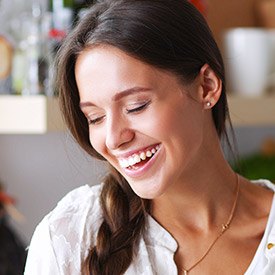 If you are unhappy with the appearance of your smile, a dazzling solution is in sight with porcelain veneers. These are thin, tooth-shaped coverings that are affixed to the front side of imperfect teeth. Completed in just two visits to our office, porcelain veneers provide a dramatic transformation — and they can last for many years with the proper maintenance.
Learn More About Porcelain Veneers
Metal-Free Restorations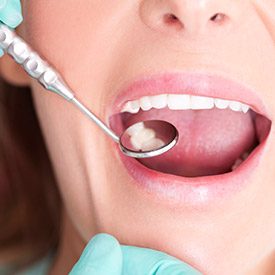 If you have a significantly damaged tooth in the front of your mouth, you need a solution that can renew its strength without taking away from the overall appearance of your beautiful smile. Metal-free restorations offer a wonderful solution. With an E-Max, Lava, or Feldspathic crown, Dr. McKnight can successfully restore a broken, decayed, or otherwise damaged tooth without the use of metals or other visible materials.
Learn More About Metal-Free Restorations
Direct Bonding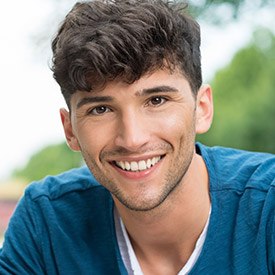 Direct bonding provides a non-invasive solution for minor cosmetic imperfections that take away from the appearance of your smile in a big way. Using a natural-looking composite resin, Dr. McKnight can rebuild and reshape missing or damaged tooth enamel in a single appointment. Direct bonding offers a wonderful alternative to porcelain veneers for patients who are not able to invest as much — and the results are just as stunning.
Learn More About Direct Bonding
KöR Teeth Whitening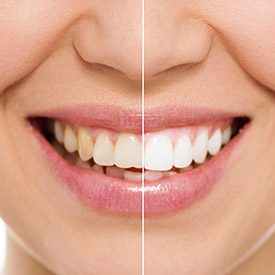 A professional teeth whitening treatment can reveal a brighter and more youthful smile in as little as 2 weeks. We prefer KöR Teeth Whitening, which reduces tooth sensitivity and offers a number of customizable options to ensure the process suits you, your needs, and your lifestyle best. The KöR treatment can erase even the most severe stains, like those caused by tetracycline, for a bright smile that lasts and lasts.
Learn More About KöR Teeth Whitening
Understanding the Cost of Cosmetic Dentistry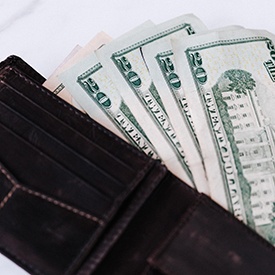 Cosmetic dentistry is believed to be expensive, but elective services are more affordable than you might realize. Although various factors influence the cost of cosmetic dentistry in Mesquite, Dr. McKnight strives to keep a beautiful, confident smile within everyone's budget. He offers a variety of treatments to find the solution you need to achieve your dream smile without spending your life's savings.
Which Cosmetic Dental Service Is Right for Me?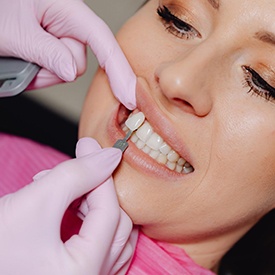 There's no way to know which procedure is best for you without first having a consultation. Every situation differs, so there's not a cookie-cutter treatment plan. Instead, your cosmetic dentist in Mesquite will examine your mouth and learn more about your concerns to determine which options can achieve your goals. He will also consider your budget when recommending a treatment, which can include:
Orthodontics: Braces or clear aligners can fix bite and alignment concerns, which may be covered under your dental insurance.
Porcelain Veneers: Veneers can fix several issues simultaneously, so you won't have to pay for multiple procedures.
Metal-Free Restorations: All-ceramic restorations can improve the health, function, and appearance of a tooth.
Direct Bonding: A composite resin can correct a variety of minor imperfections for a quick, effective, and affordable solution.
Teeth Whitening: Professional teeth whitening can get your smile up to 8 shades brighter.
We will provide you with a personalized estimate and explain the fees associated with your plan. Rest assured, you will know exactly what you will have to pay before committing to anything.
Cosmetic Dentistry Can Be an Investment Worth Making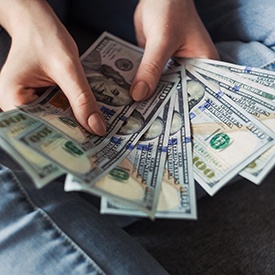 Cosmetic dentistry is a great investment because an attractive smile is attributed to youth, confidence, and success. You'll boost your self-esteem to look and feel your best; however, you may even enhance your career prospects. Research has found a beautiful smile is more appealing to potential employers. Besides a brighter future, resolving certain aesthetic flaws can also improve your oral health. As a result, you can reduce your long-term dental expenses to save money down the road.
How to Make Cosmetic Dentistry Affordable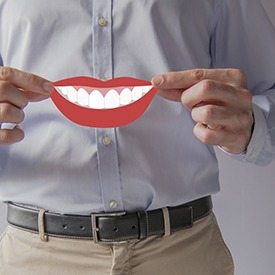 You don't have to be rich or famous to benefit from cosmetic dentistry. Our office offers various financial solutions to achieve a picture-perfect smile, even if money is tight. We will review all your payment options, which include:
Traditional Payments: Our office accepts all traditional payment methods, including cash, checks, and credit cards.
Dental Insurance: It's rare for dental insurance to cover elective services; however, if a procedure is medically necessary, your benefits may pay a portion of the cost. Your plan may be used for any preparatory treatments, like fillings or gum disease therapy. If a cosmetic procedure is necessary for your oral health, your coverage may pay 50% to 80% of the cost after meeting your annual deductible.
Financing: You can pay for your treatments using monthly installments with little or no interest payments through a third-party financing company, like CareCredit.
If you have any questions about paying for cosmetic dentistry, or you are ready to schedule an appointment, contact our office today.
Cosmetic Dentistry FAQs – Mesquite, TX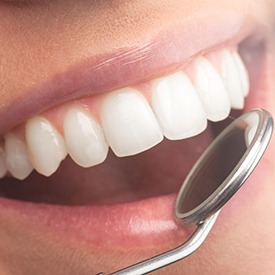 Cosmetic dentistry is more popular than ever, and we offer a wide menu of services that can take your teeth from drab to dazzling in less time than you think. From Invisalign, porcelain veneers, teeth whitening in Mesquite and more, you can bet that we have a way to transform your smile. But if you still have questions about cosmetic dentistry, keep reading for answers to several frequently asked questions below. And feel free to contact us if you'd like to schedule a consultation, or if there's anything else you'd like to know!
How Do I Know Which Cosmetic Procedures Are Right For Me?
The first step in the process is a consultation with Dr. McKnight. With many years of experience, multiple awards (including Best Cosmetic Dentist), and an artistic eye, he'll carefully evaluate your needs and goals before creating the perfect treatment plan for you. In some cases, just one procedure is necessary. In others, a combination of treatments provides the best results.
Will Insurance Cover My Cosmetic Dental Work?
Most insurance plans only cover procedures that are necessary for good oral health. With that said, there may be an overlap with certain treatments such as tooth-colored fillings and dental crowns. These are examples of procedures that repair damaged teeth while also improving their appearance. While each insurance plan is different, these restorative treatments are often covered between 50% and 80%.
After you've had a consultation, we'll discuss your costs as well as insurance and/or third-party financing with CareCredit. Our team will also file your claims and always works hard to make your care as affordable as possible.
How Long Will It Take To Get Results?
It depends on which procedures you're having done, but many are completed in just 1 or 2 visits. Here's an estimate of how long common procedures take:
Professional whitening – We offer KoR whitening, which is considered the gold standard in professional treatments. It provides dramatic results in about 2 weeks for most patients (severe cases may require 3 to 4 weeks).
Porcelain veneers – After a consultation to make sure they're right for you, porcelain veneers are usually completed in 2 visits.
Direct bonding – This procedure can be done in just 1 visit.
Invisalign – One of the advantages of Invisalign in Mesquite is that it's often completed in less time than traditional braces (average treatment time for Invisalign is 12 to 18 months as opposed to 18 to 24 months for metal braces).
I Don't Like How My Teeth Look. Can I Just Replace Them With Dentures or Implants?
If tooth loss is inevitable or has already occurred, dentures and implants are a wonderful option. However, since they come with many drawbacks and simply don't look or feel as good as your own teeth, we always recommend saving natural teeth when possible.
With that said, rest assured that we have a wide menu of safe, reliable procedures that will beautifully correct any type of cosmetic issues you have while still maintaining your long-term oral health.