Dental Crowns – Mesquite, TX
Restorations for Each Individual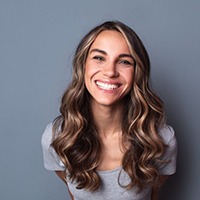 Once you've experienced dental damage, it doesn't mean your tooth is doomed to stay that way. Our team can provide dental crowns in Mesquite that restore teeth needing protection and reinforcement. While composite resin fillings can be beneficial for minor cavities, many teeth require more extensive care! Dr. McKnight and the rest of our team are proud of the quality of the restorations we place, and we know that each tooth is as unique as the patient. As a result, you can expect to receive a completely custom crown when necessary. If you need a dental crown, don't hesitate to reach out to our team and schedule an appointment with Dr. McKnight!
What is a Dental Crown?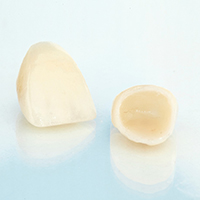 A dental crown is a restoration that compensates for a single tooth above the gums. It is often used in these types of scenarios:
The tooth has more decay than can be restored with a tooth-colored filling.
The tooth is cracked or badly chipped.
The tooth has undergone root canal therapy.
One dental implant needs a restoration on top.
Dental crowns can be made out of many different materials, but the most common are porcelain fused to metal and all porcelain, which are metal free. After examining your tooth and considering other factors, Dr. McKnight can recommend the type that will best suit your individual needs.
The Dental Crown Process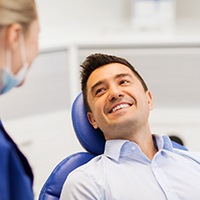 When you are in need of a dental crown, we will follow this basic procedure:
First, the tooth will be prepared, most of the time through removing part of the enamel to make space for the new restoration. Sometimes, this entails root canal therapy. In any case, we will numb the area before we start so that you'll be comfortable throughout the procedure.
Then, we will collect impressions of your upper and lower teeth and send them to our dental lab so they can fabricate your custom crown with precision.
Meanwhile, we will put on a temporary crown and send you on your way.
When the crown is complete, you'll come back to our office so that Dr. McKnight can bond the crown into position.
The Benefits of Getting a Dental Crown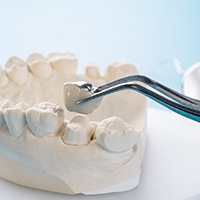 Without a dental crown, your diminished tooth will not be able to bite, chew, or do other things it needs to do in your mouth. It will also be more exposed and vulnerable to decay, which could eventually lead to tooth loss. Your dental crown protects and preserves your natural tooth.
Although tooth-colored fillings can be used for teeth that have tooth decay, more severe cases require a stronger solution. Modern dental crowns are not only strong and durable but also created to look completely natural. Depending on your needs and situation, we can design a crown that gives you the functionality necessary for everyday use and the realistic appearance for a more confident smile.
Dental Crown FAQs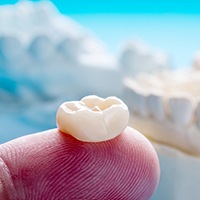 Are you in need of a new dental crown? You may still have some unanswered questions about the restoration, so we're here to help! Here are the answers to some of the most common questions we receive about dental crowns in Mesquite. If you don't see the information that you're looking for below, give us a call. We'd be happy to walk you through the process so you can feel more prepared for your appointment.
Are Dental Crowns Permanent?
Dental crowns aren't permanent, but they are a long-term solution. On average, thy can protect your tooth for anywhere from 5 to 15 years. When your dentist reshaped your tooth for a crown, that procedure is irreversible. This is because tooth enamel cannot grow back after it's been lost, so the tooth that will always need a crown for protection going forward. That being said, crowns protect the underlying tooth from additional damage for much longer than it likely would have otherwise.
Do Dental Crowns Get Cavities?
It is impossible for a crown itself to develop a cavity. However, the tooth underneath it still can. A crowned tooth actually has about the same risk of decay as an uncrowned tooth. Poor oral hygiene makes it possible for bacteria and plaque to form around the gumline where the tooth meets the crown. They can then travel underneath the crown and wreak havoc on the underlying tooth. You can prevent cavities in crowned teeth the same way you'd prevent cavities in any other tooth – brush, floss, and attend regular checkups.
Does It Hurt to Get a Dental Crown?
Just like when you get a filling, Dr. McKnight will numb the tooth he'll be working on when you get a crown. You shouldn't feel any discomfort during the procedure itself, but you may experience some sensitivity for a few days afterward, particularly if you also had a root canal. Fortunately, this is temporary and can be managed with over-the-counter pain relievers. If discomfort persists or worsens, give us a call so we can help.
Do Dental Crowns Feel Natural?
Within a few days of receiving your permanent crown, it should start to feel increasingly natural. Crowns are made from durable materials that can stand up to everyday chewing forces just as easily as tooth enamel, so eating with a crown shouldn't feel strange. The reason that the tooth is reshaped and impressions are taken is to ensure that the crown fits comfortably within the mouth. Therefore, it should not feel awkward or even noticeable.