Dental Implants — Mesquite, TX
Replace Missing Teeth with a Permanent Solution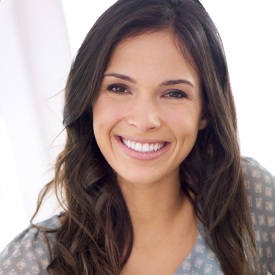 Every tooth is important for more than just chewing. They are also influential to your self-esteem. If you have lost a few teeth over the years, you know firsthand the effects an incomplete smile has on both your everyday life and your confidence. Fortunately, you don't need to hide your smile any longer. Dr. McKnight offers the solutions you need for tooth replacement: dental implants!
Recent advancements in dental technology have allowed dental implants to become the preferred option for restoring missing teeth. Through scientific research and discovery, implant dentistry has been changing the art of restorative procedures one smile at a time for the last 25 years. As a permanent replacement for tooth loss, you'll not only gain a stunning new smile, but preserve your oral health and gain an improved quality of life as well. Dr. McKnight is the implant surgeon in Mesquite, TX you need to create a customized new smile with long-lasting tooth replacement.
Why Choose Dr. Byron McKnight For Dental Implants?
#1 Entire Dental Implant Procedure Completed Under 1 Roof
#2 Caring Implant Dentist with Over 25 Years of Experience
#3 Replace Any Number of Missing Teeth for Life
What Are Dental Implants?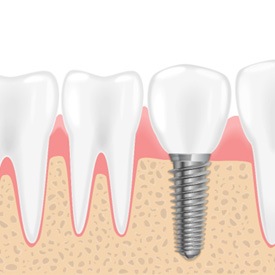 Dental implants offer a comfortable, stable, and attractive option for teeth replacement because they closely mimic your own natural teeth in terms of both function and appearance. Titanium posts are surgically inserted into the jawbone to act as a new tooth root. Then, custom-made porcelain restorations like crowns, bridges, or dentures are placed onto the posts to serve as the tooth above the gumline. With a nearly 100% satisfaction and success rate, implants are a long-term investment in your quality of life and oral health.
The 4 Step Dental Implant Process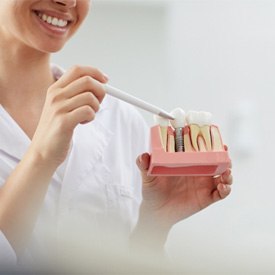 Before you begin the process of rebuilding your smile after tooth loss, it's important to have a basic idea of how dental implants work in Mesquite. Part of your initial consultation will involve our team laying out the steps of the treatment process, including an estimated timeline and pricing information. While every patient's smile journey is different, you can find some of the basics described below.
Dental implant surgery requires a skilled oral surgeon or periodontist. Dr. McKnight will use the latest advancements and technology to map out your mouth to create a plan of treatment. He will determine all aspects of your treatment, including if bone grafting is needed and which type of implant will be best for you. Then, he will insert the titanium posts into the jawbone to act as a tooth root, giving the implanted tooth a sturdy and stable foundation. Once the bone has healed around the implant, the custom-made prosthetic tooth will be attached to the post, giving you a new smile and restored function.
Initial Dental Implant Consultation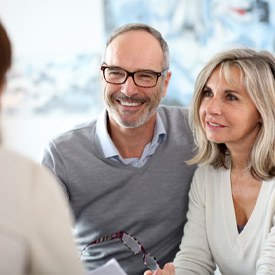 The first step in replacing your missing teeth is attending a consultation with Dr. McKnight. During this appointment, we'll carefully examine your smile, go over your restoration options, and develop a personalized dental implant treatment plan. Before placing implants, we may recommend one or more preparatory procedures, such as bone grafting, to ensure your mouth is able to support as many implants as you need to enjoy a full smile again.
Dental Implant Surgery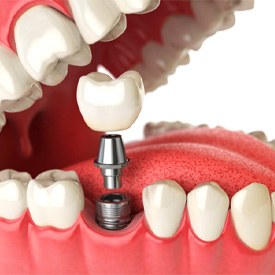 Once your smile is ready, you can go ahead and schedule your dental implant placement surgery. Many other dentists have to refer patients to an outside specialist for this step in the process, but as an implant dentist in Mesquite, Dr. McKnight can perform this procedure right here in our office.
The surgery is relatively straightforward. We make an incision in your gums to access your jawbone. Then, we place the implant posts at precise angles and locations. Lastly, a protective cap is placed atop the implants to shield them and maintain the shape of the surrounding tissue until the healing process is complete.
Dental Implant Osseointegration & Abutment Placement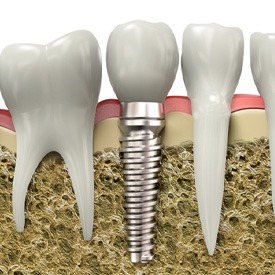 After your implants have been placed, they will gradually fuse to your jawbone. This process is called osseointegration, and it can take anywhere from three to six months. Once osseointegration is complete, we'll perform another, smaller surgery in which we place abutments. These little metal attachments will allow your dental implants in Mesquite to support your custom-made restoration.
Delivery of Dental Implant Restorations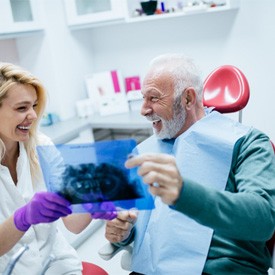 Once the abutments are in position, we'll take impressions of your mouth. The data is then sent to a dental lab, where your crown, bridge, or denture will be designed to our exact specifications. A few weeks later, you'll return to our office and we'll permanently cement your restoration into place, instantly completing your smile!
Why Replace Missing Teeth?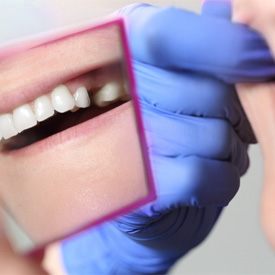 Having missing teeth is more than just a cosmetic issue that impacts your confidence. Missing teeth cause your oral health and quality of life to decrease if they are not replaced. Once a tooth is lost, the structures that supported the teeth are no longer stimulated, causing these structures and bone to quickly deteriorate. In fact, as much as 25% of bone can be lost within the first year from just one missing tooth, causing the surrounding teeth to eventually shift, become loose, and even fall out. This destabilization causes an increased risk for gum disease and tooth decay as well. Over time, the loss of structure and bone causes the appearance of your face to change, causing a sunken appearance.
Fortunately, dental implants can help you avoid nearly every drawback that comes with tooth loss!
Benefits of Dental Implants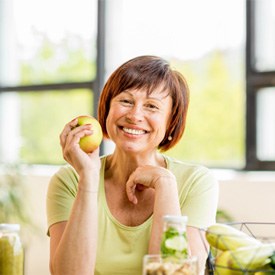 A safe and reliable form of tooth replacement (success rates average 95 to 98 percent when properly maintained.)
A fully stable and functioning smile that lets you chew, speak, and laugh with confidence.
Dental implants are the only option to replace the roots of missing teeth, keeping your jawbone strong and healthy.
Easily care for dental implants just like natural teeth with regular brushing, flossing, and cleanings from your dentist.
There is no damage to nearby teeth.
Enjoy a dramatically improved biting force and chewing capacity.
With the proper care, dental implants can last a lifetime.
Who Dental Implants Can Help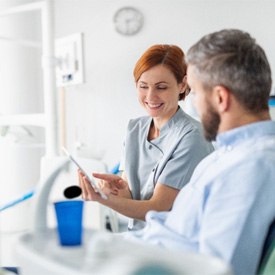 Dental implants can be used to replace one, several, or an entire arch of missing teeth. Plus, most patients facing tooth loss qualify for dental implants! While it is not recommended for teenagers under the age of 18, there is no upper age limit for restoring your smile with this life-changing treatment. We'll need to meet with you for a consultation to confirm that dental implants are a good choice for you. If you are not initially a good candidate, we may be able to help you become one with advanced dental implant procedures like a bone graft or gum disease therapy.
Who Is a Good Candidate for Dental Implants?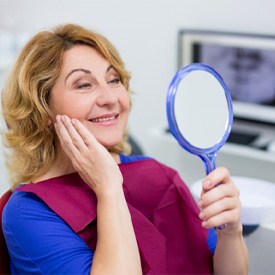 Dental implants are an excellent tooth replacement option for nearly every patient with missing teeth. For example, although smokers can undergo implant placement surgery, the likelihood of failure is much higher for them. Generally, you'll need to be in good health, no oral health issues, and adequate jawbone density.
If your jawbone isn't strong enough to support dental implants, you may need to have a bone graft to become a good candidate. Alternatively, you may need to be treated for gum disease before moving forward with dental implants. The only way to know for sure whether you're a good candidate for dental implants is to schedule a consultation to talk to Dr. McKnight. He will be able to review your specific case and discuss your restoration options with you.
Missing 1 Tooth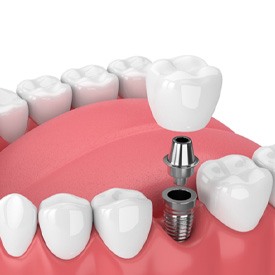 When it comes to replacing singular missing teeth, patients generally need to decide between fixed traditional bridges and dental implants. However, these options are not created equal. Dental implants do not require neighboring teeth to act as an anchor. Because the titanium implant post is strong enough to hold the tooth on its own, there's no need to alter the neighboring teeth to support the replacement.
Missing Multiple Teeth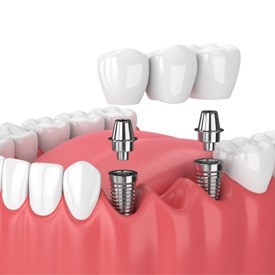 If you have multiple teeth that are missing along the same row, it may be better for you to consider a bridge. By installing two implants, one on either side of the gap, a customized prosthetic will be attached to provide a strong and durable fit that will leave you feeling confident about your smile.
Missing All Teeth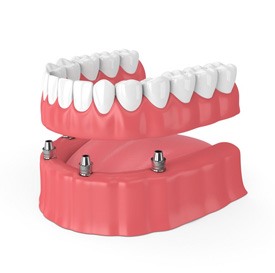 Although dentures are secured with suction or a metal clasp, they can slip or come loose, often at inconvenient times. With dental implants, you never have to worry this happening. You can bite, chew, speak, laugh, and smile with complete confidence.
If we see that you have enough strong bone structure, you can move forward with implant dentures. By placing several implants along the jawbone, it will support your new denture. Depending on your individual needs, it can be permanently fixed or removable.
Since jawbone loss is a natural side-effect of tooth loss, many patients looking to replace an entire arch of missing teeth do not possess adequate bone density. In cases like these, All-On-4 dental implants are an ideal choice! This unique method of placing an implant denture only requires four strategically-placed dental implants, so you can enjoy the stable smile you deserve.
Understanding the Cost of Dental Implants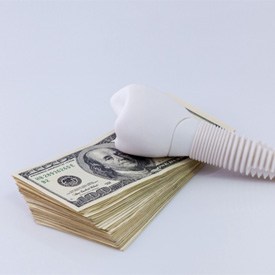 Our team will provide personalized dental implant treatment for every patient, so you won't expect a set price for your procedure. Several factors will be considered when determining how we'll effectively rebuild your missing pearly whites. During your initial consultation, our team will review your situation and oral health, providing you with the details of the process as well as an estimate of the cost of your dental implants before beginning any work. We'll also discuss your options for making your treatment work within your budget, such as insurance and alternative financing solutions.
Preliminary Treatments & Dental Implant Surgery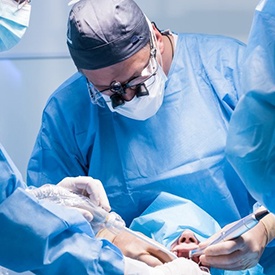 Patients who are struggling with existing oral health issues will likely need to undergo preliminary services to get them resolved before moving on to dental implant surgery. These treatments may include bone grafting, gum disease therapy, or extractions—whatever is necessary for returning your smile to health. While this can increase the price of your implants, these services will help ensure a higher rate of success for your results. The surgery itself will also have its own cost, but our team can perform the entire process in-house, allowing you to save more money from needing an outside specialist.
The Parts of Your Dental Implant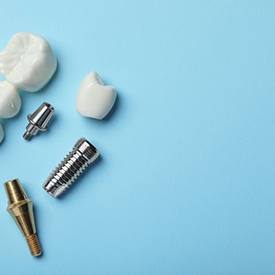 The dental implants themselves will also have various factors to consider, such as:
The number of dental implants needed, as a single post will cost significantly less than if you needed four.
The kind of restoration required, as a denture or dental bridge will cost more than a crown.
The type of material used, since implants constructed of zirconia or ceramic will cost less than those made of titanium.
The brand of dental implants—which can be made differently by various manufacturers. Our team, of course, uses the highest quality for the best results.
How Dental Implants Can Save You Money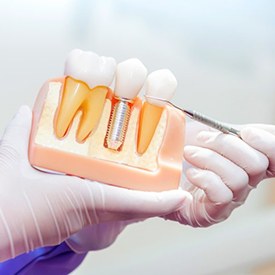 Although it may seem at first that traditional prosthetics like dental bridges and dentures are more budget-friendly, they can end up costing more than dental implants later on. This is because you'll typically have to replace them every few years, and you'll need to purchase special cleaning products to maintain them. Dental implants, however, are like natural teeth, so you'll simply need to care for them like your normal pearly whites. Plus, they can often last decades to a lifetime, meaning you can save more money in the long run.
Does My Dental Insurance Cover Dental Implants?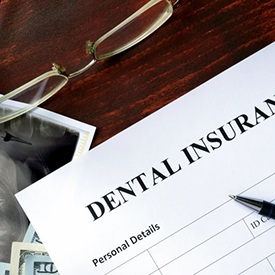 There may be some exceptions for dental implants when it comes to insurance. For instance, while your policy might not include coverage for the titanium posts themselves, you might have help when paying for the restoration(s) and/or preliminary treatments. Be sure to consult your provider for more details so that you're well aware of how you can make the most of your plan. You can also speak with our team so we can help navigate your policy if necessary.
Making Dental Implants Affordable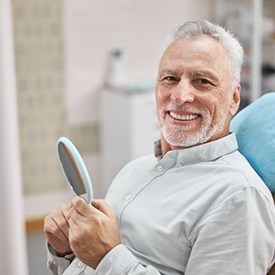 If you don't have insurance, we can still provide financing options like CareCredit to help minimize your out-of-pocket expenses. With this third-party financier, you can find plans that can turn your dental treatments into monthly installments, that way you won't have to pay a costly sum all at once. They also typically come with little to no interest, meaning you won't have to break the bank to fully rebuild your smile.
Maintaining & Caring for Your Dental Implants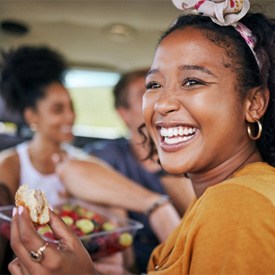 As with any dental work, the lifespan of your dental implants largely depends on how well you take care of them. If you brush and floss daily and visit our office for checkups and cleanings twice a year, you're more likely to get more years out of your dental implants. In fact, they can last for 30 years or longer. Compared to dentures, which need to be replaced about every 5 to 7 years, and dental bridges, every 7 to 10 years, dental implants could be your best long-term solution for missing teeth.
Prioritize Your Oral Hygiene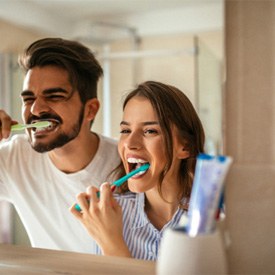 Good oral hygiene is the key to a healthy smile, even with dental implants in Mesquite. The most common cause of implant failure is an infection called per-implantitis, which develops as a result of bacteria accumulation that leads to inflammation of gum tissue and compromises the health of the bone that supports the implant posts. To minimize this risk, brushing twice a day, flossing daily, and regularly rinsing with antimicrobial mouthwash is crucial.
Maintain a Balanced Diet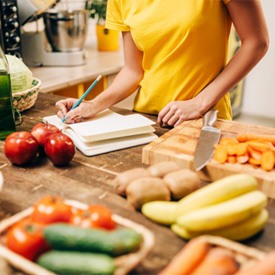 Oral bacteria love to feed off of sugars and carbohydrates, so it's important to adjust your diet to make sure it isn't heavy in processed snacks and foods. Instead, try substituting your go-to chips and sweets for fresh fruits and vegetables. These can naturally help remove debris from between teeth due to their crunchy textures, all while being the better options for your overall health!
Break Bad Oral Habits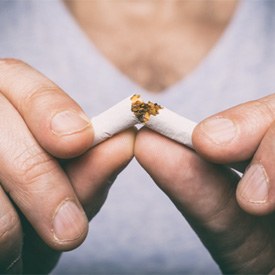 If you have bad oral habits, like smoking or using tobacco products, chewing on ice, and biting on pens, pencils, and other hard objects, it could jeopardize your dental implants. Before you restore your smile, try to break these by finding healthier, smile-friendly coping mechanisms to put in their place. For tobacco and alcohol use that could impede on your implants' ability to fuse with the jawbone, consult with a professional to help you take safe, proper steps towards quitting.
Protect Your Dental Implants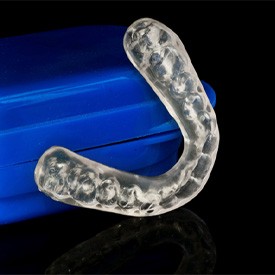 If you grind your teeth or play sports, it's worthwhile to invest in custom-fitted nightguards or sportsguards to keep your dental implants from becoming loose or compromised. Your implant dentist in Mesquite offers comfortable, personalized oral devices for maximized cushioning and protection.
Schedule Routine Checkups & Cleanings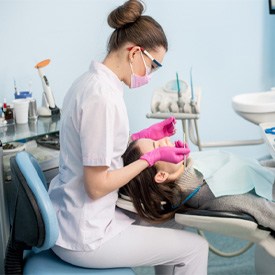 Just like with your natural teeth, bi-annual checkups and cleanings are an important part of dental implant care in Mesquite. These visits will allow your dentist to evaluate the health of your replacement teeth and address any early signs of issues before they have an opportunity to progress and compromise the health of your new smile.
Call Our Mesquite Office Today!
Don't put off replacing your missing tooth any longer. To get in contact with Dr. McKnight to discuss your next tooth replacement, give our Mesquite office a call! We're experienced the creation and placement of high-quality dental restorations, including dental implants.