Dental Implants – Mesquite, TX
Replace Missing Teeth With A Permanent Solution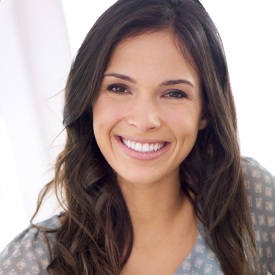 Recent advancements in dental technology have allowed dental implants to become the preferred option for restoring missing teeth. Through scientific research and discovery, implant dentistry has been changing the art of restorative procedures one smile at a time for the last 25 years. As a permanent replacement for tooth loss, you'll not only gain a stunning new smile, but preserve your oral health and gain an improved quality of life as well. Dr. McKnight is the implant surgeon in Mesquite, TX you need to create a customized new smile with long-lasting tooth replacement.
What Are Dental Implants?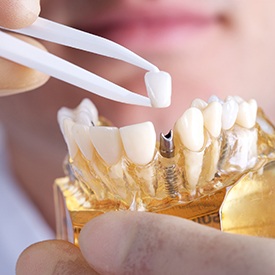 Implants offer a comfortable, stable, and attractive option for teeth replacement because they closely mimic your own natural teeth in terms of both function and appearance. Titanium posts are surgically inserted into the jaw bone to act as a new tooth root. Then, porcelain prosthetic crowns are placed onto the posts to serve as the tooth above the gum line. With a nearly 100% satisfaction and success rate, implants are a long-term investment in your quality of life and oral health.
What Are the Benefits of Dental Implants?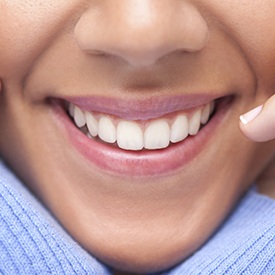 Having missing teeth is more than just a cosmetic issue that impacts your confidence. Missing teeth cause your oral health and quality of life to decrease if they are not replaced. Once a tooth is lost, the structures that supported the teeth are no longer stimulated, causing these structures and bone to quickly deteriorate. In fact, as much as 25% of bone can be lost within the first year from just one missing tooth, causing the surrounding teeth to eventually shift, become loose, and even fall out. This destabilization causes an increased risk for gum disease and tooth decay as well. Over time, the loss of structure and bone causes the appearance of your face to change, causing a sunken appearance.
Your quality of life decreases as you lose your ability to chew and speak correctly. But, with an implant:
You'll have an increased biting force much stronger than traditional dentures.
The teeth are surgically inserted, so they will never need to be remove.
There's no messy cleaning, no need for adhesives, and no slipping when eating or speaking.
You simply care for your implant as you care for your own natural teeth with regular brushing, flossing, and cleanings from your dentist.
You are not only replacing the root but the tooth as well, keeping your jaw bone strong and healthy.
It is long-lasting, which means you can keep your teeth for decades or a lifetime.
There is a high success rate.
You'll have natural functioning, making it possible to eat, chew, and speak with confidence.
It will enhance your esthetics.
There is no damage to nearby teeth!
Indications for Dental Implants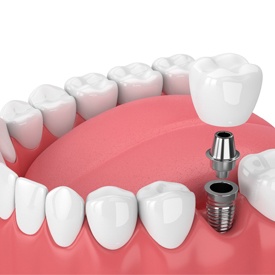 Considered one of the most versatile reconstructive dentistry services, dental implants can help patients who are missing one or all of their teeth. After a thorough consultation, Dr. McKnight can help you determine which type of restoration is right for you.
Missing One Tooth
If you have one tooth that is missing, an implant can be placed into the jaw bone and a customized crown will sit on top of the implant, blending in seamlessly with your smile.
Learn More About Single Tooth Replacement
Missing Multiple Teeth
If you have multiple teeth that are missing along the same row, it may be better for you to consider a bridge. By installing two implants, one on either side of the gap, a customized prosthetic will be attached to provide a strong and durable fit that will leave you feeling confident about your smile.
Learn More About Multiple Tooth Replacement
Missing All of Your Teeth
Missing all your teeth doesn't always mean traditional dentures. If we see that you have enough strong bone structure, you can move forward with implant-retained dentures. By placing several implants along the jaw bone, it will support your new denture. Depending on your individual needs, it can be permanently fixed or removable.
Partnered with the Best Oral Surgeons and Periodontists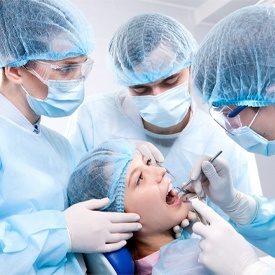 While Dr. McKnight handles the restoration portion of your dental implants, he works with oral surgeons and periodontists in the local area to handle the surgical components of placing your dental implants.
How Does Dental Implant Surgery Work?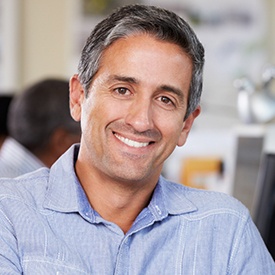 Dental implant surgery is a fairly invasive procedure that requires a skilled oral surgeon or periodontist. Dr. McKnight will use the latest advancements and technology to map out your mouth to create a plan of treatment. He will determine all aspects of your treatment, including if bone grafting is needed and which type of implant will be best for you. Then, he will insert the titanium posts into the jaw bone to act as a tooth root, giving the implanted tooth a sturdy and stable foundation. Once the bone has healed around the implant, the custom-made prosthetic tooth will be attached to the post, giving you a new smile and restored function.
If you're ready to restore your smile, Dr. McKnight is ready to help you with dental implants. Contact him today to schedule a consultation.
Learn More About How Dental Implants Work
Understanding the Cost of Dental Implants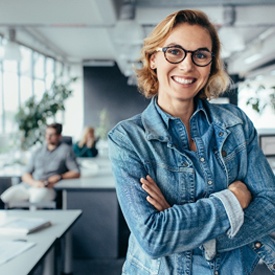 When considering dental implants as a restorative treatment option, there are several factors you must consider when discussing cost. These include:
The number of implants needed
The type of restoration that will be covering the implant
If any procedures are needed prior to placing the implants (periodontal therapy or bone grafting)
An initial consultation is the first step in determining how much your dental implant procedure will cost. Dr. McKnight will be able to examine your oral health and determine your treatment plan, which will include the cost.