Our Dedicated Dentist – Mesquite, TX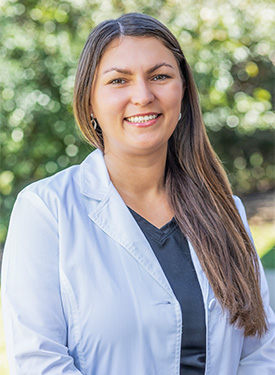 Get to Know Dr. Olga Stepanchenko
Born in Melitopol, Ukraine, Dr. Olga cares deeply about each of her patients and their dental needs. The most fulfilling part of her job is to help people achieve their specific goals while building strong and long-lasting relationships with her community. With over a decade of experience, she is more than glad to offer reliable and customized care so that you can enjoy a beautiful and healthy smile! Keep reading to learn more about her background and credentials.
Why Did You Decide to Become a Dentist?
Dr. Olga has always had a passion for helping others and making their overall quality of life better. She began her career as a dental assistant and spent 13 years falling in love with the field of dentistry. With her growing interest in dentistry, she decided to pursue a career as a dentist so that she could directly provide a positive impact on other people's lives. Today, she gets to make connections with her patients and work with an incredible team to create brighter and better pearly whites.
Where Did You Study Dentistry?
Dr. Olga started by studying at the Community College of Philadelphia to get her Associate of Science Degree. She then attended the University of Pennsylvania, earning her Bachelor of Arts in Biology with a concentration on Neuroscience. After working 13 years as a dental assistant, she made the move to becoming a dentist by studying at Texas A&M University College of Dentistry at Baylor where she earned her Doctor of Dental Surgery.
Over the years, Dr. Olga has gained recognition in several institutes, such as earning the Gold Medal for Excellence in Service and Leadership by Texas A&M College of Dentistry, the Community Leadership Award by the Public Health Sciences Department, and the CCP Academic Honors List for Scholastic Achievement. She's also volunteered for groups like the Agape Community Health Center, went on dental mission trips to Guatemala and Ukraine, and has been published in the Journal of Investigative Dermatology.
Dr. Olga has completed well over 300 hours of continuing education, including 3 continuums at the prestigious Pankey Institute in Florida, is certified in Invisalign, and is dedicated to remaining up-to-date with the latest research-proven techniques to offer the best dental care possible. She's also a member of various reputable organizations, such as:
American Dental Association
Academy of General Dentistry
American Academy of Cosmetic Dentistry
The Pankey Institute
SPEAR Education
Outside of the Dental Office, What Do You Like to Do?
At home, Dr. Olga spends time with her husband and their beautiful daughter. In her free time, her family enjoys traveling and doing things outdoors, such as swimming, kayaking, and hiking. One fun fact about her: she can fluently speak English, Ukrainian, and Russian!