All-On-4 – Mesquite, TX
Four Implants, One Dazzling Restored Smile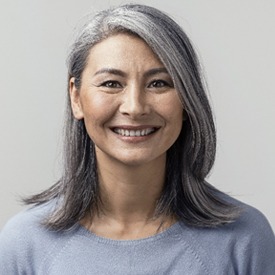 Dental implants can be an excellent way to fill in the gaps in your smile, but what if an entire row of teeth is missing? Most patients with extensive tooth loss get dentures, but there's another option that offers improved stability and can help keep the jawbone healthy. Dr. McKnight offers the All-on-4 procedure, which can replace an entire row of teeth using just 4 dental implants. Contact him today to schedule an appointment.
How Do All-On-4 Implants Work?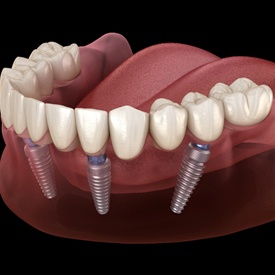 A dental implant is a titanium post that serves as the "root" for prosthetic teeth. Normally, a single implant can only support a dental crown in order to replace one tooth; however, four implants placed in strategic areas can act as the foundation for a bridge that supports an entire row of teeth. The two posterior implants (the ones in the back of the mouth) can be tilted at a 45-degree angle; this reduces the need for grafting to make sure there's enough bone height for osseointegration.
Am I A Candidate for All-On-4 Implants?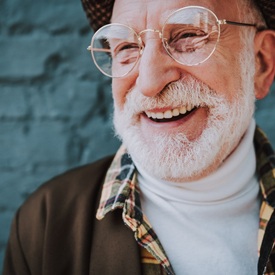 All-on-4 implants can be used for patients who have lost all of their teeth or need to have an entire row of teeth extracted for health purposes. Because the posterior implants are inserted at an angle, even patients who have already suffered from bone loss in the jaw may be able to enjoy a dazzling restored smile thanks to All-on-4.
What Are the Benefits of All-On-4 Implants?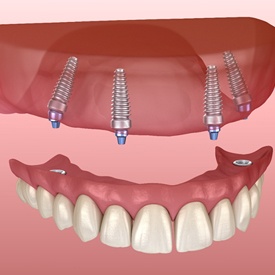 Prosthetic teeth supported by All-on-4 implants do not need to be taken out and do not need adhesives, unlike traditional dentures; you can simply brush them like you would your natural teeth in order to maintain oral hygiene.
Implants are comfortable in your mouth.
With All-on-4 implants, you'll enjoy increased chewing power that will allow you to eat all your favorite foods.
The implants will prevent the bone loss in your jaw that dentures won't address; they'll also support your facial features and help you look younger.
---
All-on-4 VS Traditional Dental Implants
With traditional methods, it usually takes anywhere from 6 to 8 implants to support a denture, and none of these implants take advantage of a 45-degree angle, meaning bone grafts are usually required in patients that have experienced bone loss. Furthermore, for certain patients, All-on-4 implants can be loaded with replacement teeth immediately; traditional implants usually require that you wait for osseointegration and recovery to take place before the dental restoration can be placed. As a result, All-on-4 treatments are usually faster and less costly than traditional implant procedures.
Of course, you'll need to speak with an implant dentist before determining whether All-on-4 really is the most suitable treatment for you. Schedule an appointment with Dr. McKnight today!