About Our Mesquite Dental Team
One of the reasons we can provide such careful, competent dentistry is that our entire team is highly trained in our various areas of expertise, representing a total of over 100 years of hands-on experience. But beyond this technical investment, we have also invested in the people of our practice as well. In fact, when you come in, we'll spend as much time as it takes to thoroughly listen, understand your concerns, and tailor our services to meet your individual needs. It's an approach that requires efficient teamwork and a long-term commitment to excellence.
DONNA
FRONT DESK TREATMENT COORDINATOR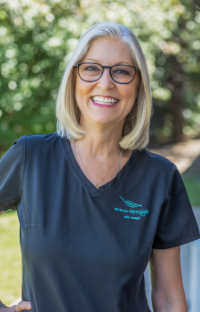 Donna has been with our practice since October 1989, managing the front desk and appointments. It is hard to believe that she has been here over 30 years with Dr. McKnight's practice, which goes to show how much she loves her patients, co-workers, and multi-tasking job.
Donna is our patient liaison, so always feel free to give her a call with any of your questions or concerns. You will typically see her with a phone at her ear and a smile on her face as she answers the incoming phone calls. It is not surprising that her smile is one that is most commonly requested by our patients.
Donna is very schedule-oriented in all aspects of her life, from our daily patient appointments to her personal routines. She prefers predictability and runs a pretty tight ship! As any patient knows, her personality is quite amiable, and she can never resist laughing at her own jokes. She is a great listener and truly cares about people. Her uncanny memory when it comes to our patients has been a great asset.
Donna grew up in Mesquite, and she graduated from Mesquite High School in the top 5% of her class and was involved in drama and cheerleading. It is no wonder that she enjoys being at the hub of the office! She had 33 wonderful years of marriage with her husband, Rick. She has one daughter, Destiny, who graduated valedictorian of West Mesquite High School in 2000, and then in 2004, completed dual degrees at the University of Texas at Austin. Donna welcomed a new member to her family when Destiny married her high school sweetheart, Josh, in October 2007. He graduated valedictorian of North Mesquite High School in 2000 and also graduated from the University of Texas at Austin in 2004, receiving a degree in electrical engineering. They have since blessed her with three grandchildren: Adair, Calla and Xander born in 2013, 2016 and 2019.
In her free time, she enjoys relaxing at home, watching movies, crocheting, and reading. Donna has recently started a new time-consuming hobby of genealogy research and discovering fascinating information about her family. Due to her extensive research into her family roots, she became a member of The Daughters of the American Revolution in May 2011. She attends Anchor Baptist Church in Mesquite, and has reached her goal to read the entire Bible in one year.
Family is very important to Donna, but she considers her extended family of patients that she has served during her 30 plus years a close second.
---
MISTY
FINANCIAL MANAGER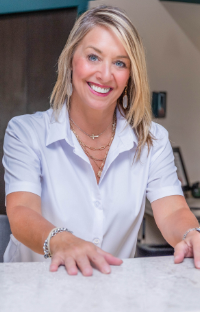 Although Misty is relatively new to our team, she has nearly three decades of experience in the dental field! She studied at Trinity Valley Community College in Terrell and has her Registered Dental Assistant license. Today, she loves helping our patients create a treatment plan that benefits their smile and their finances. In fact, it's her favorite part of her job! Her passion for maximizing each patient's dental benefits make her an integral part of our team.
Outside the office, you can find Misty spending time with her husband, Michael, her son, Jordan, and her two "bonus" kids, Adyson and Brandon. She loves relaxing on their boat at the lake, enjoys feeling the sand between her toes at the beach, and is a total tomboy at heart. Although she grew up riding dirt bikes, she began non-competitive boxing at the age of 35, and her talent pushed her to teach her very own boxing classes!
When asked an interesting fact about herself, Misty shared that she has never seen the movie The Wizard of Oz! (Although she is familiar with the plotline and some of the star characters).
---
MILLYE
DENTAL HYGIENIST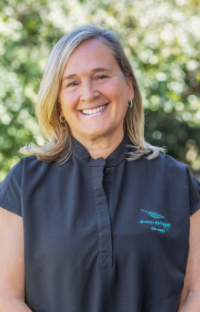 Millye has been Dr. McKnight's hygienist for over 30 years and has a uniquely personal relationship with all of her patients. She graduated from the Caruth School of Dental Hygiene at the Baylor College of Dentistry in 1985 where she received a Bachelor of Science degree in dental hygiene. Upon graduation, she joined Dr. McKnight's dental team. Here, she has truly been able to fulfill her passion, enjoying all aspects of her profession. Most importantly, she loves the relationships and friendships she has developed over the years with her patients.
In 1988, Millye met Blaine, and they were married two years later. They now have three children: Sallye (1993), Blaine Jr. (1997), and Gracie (2000). They currently live in the Lake Highlands area of Dallas and are active in Northwest Bible Church.
If she can find a spare moment, Millye enjoys walking, going to garage sales, and working on the endless, creative memories scrapbooks for her family.
---
BROOKE
DENTAL HYGIENIST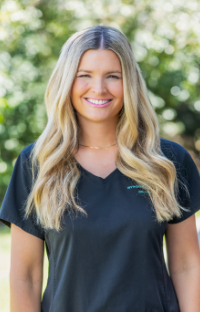 Brooke joined our practice in 2016 and has 11 years of experience in dentistry. She says the best parts of her job are working with a fun, positive team and knowing she's providing excellent patient care. She focuses on providing thorough, gentle, and comfortable cleanings. Originally from Ennis, Brooke studied dental hygiene at Tyler Junior College. She's married with three sons and a baby girl. In her spare time, Brooke enjoys traveling, crafting, and learning about health and fitness. She actually met Dr. McKnight and his wife while doing Crossfit!
---
AMY
REGISTERED DENTAL ASSISTANT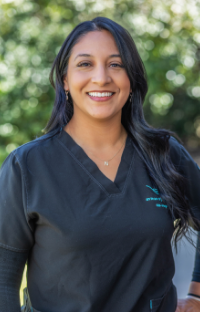 Amy has been with Dr. McKnight since May 2008 and strives to deliver quality oral health care to our patients. She is a 1998 graduate of Woodrow Wilson High School in Dallas, TX. Shortly after graduation, Amy began attending Dallas County Community College. During her studies there, she had the opportunity to begin a dental assisting career. Amy gladly accepted the opportunity in the year 2000 and has received her licenses through the Texas State Board of Dental Examiners. She has received her RDA (Registered Dental Assistant) license, Nitrous Oxide Monitoring Certification and Radiology license. Each year, she continues to expand her knowledge with continuing education courses.
Amy married her high school sweetheart, Nelson. They now have four kids, 3 beautiful girls and a handsome boy: Layla, Noelia, Camila and Brandon. Amy and her family make their home in the Dallas area. Amy and Nelson enjoy spending time outdoors with their kids as well as numerous cookouts and parties with their extended family.
---
Priscilla
Registered Dental Assistant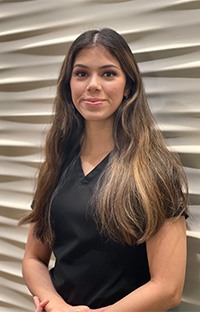 Priscilla is originally from Chicago, Illinois, and began her occupation by attending Careers in Dental Assisting. Through her education, she became certified in CPR as well as earned her radiology license. Today, you'll find her helping the dentist during various kinds of procedures while also educating patients on best practices for maintaining good oral health. Her favorite thing about her job is being able to help others become confident about their pearly whites!
When she isn't at the office, Priscilla spends time with her parents and younger brother. She's also very active in the gym ever since she grew an interest in weightlifting. An interesting thing about her: she used to want to be an orthodontist before realizing that she enjoys general dentistry.
---
HEATHER
REGISTERED DENTAL HYGIENIST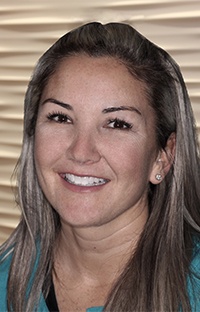 Heather was born and raised right here in Texas! After graduating from high school, she studied at Clemson University. Then, she completed hygiene school at Tyler Junior College. Now, she has nearly a decade of experience in the dental field. Throughout the time, her favorite part of her job has been the same: putting a smile on people's faces.
Heather and her son, Austin, reside in Fate. They are both very active, and she often spends her time outside the office helping him with his favorite hobbies, like tennis and gymnastics. Although she likes to play sports too, she also enjoys taking it easy every now and again by reading a good book or doing some baking.
Here's something you may not know about Heather: she has two hole in ones in golf!
---
CONNIE
CERAMIC TECHNICIAN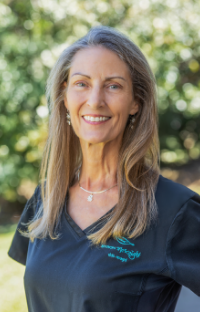 Connie has been Dr. McKnight's in-house lab technician for over 15 years and has been in the profession for much longer. Behind the scenes at Dr. McKnight's office, her expertise and attention to detail are sought by our staff to help our patients achieve their optimal smile. Connie directs our in-house dental lab and is responsible for the fabrication of the majority of our gold and porcelain restorations.
Born and raised in Dallas, Connie graduated from H. Grady Spruce High School, where she became interested in dental laboratory technology while taking a course at Skyline High School. She received her certification in 1983 and has owned and operated her dental lab since 1985. In 1996, she completed a year-long intense study program, working with the graduate prosthodontic students at the Baylor College of Dentistry to expand her knowledge in full mouth reconstruction and dental implants.
Connie is also a Board-Certified Hypnosis Smoking Cessation Specialist. She practices in the office on weekends and after hours for those who are ready to quit the use of tobacco, including smoking, dipping, and chewing tobacco products. She works one on one with all of her clients.
Connie and her husband, Rusty, have been married since 1986. In September of 1998, they traveled to China to adopt their precious daughter, Windi Nikole Jia, when she was 14 months old. As a family, they love to hike, bike, and go camping, but their favorite sport is windsurfing and watching Windi learn to master the sport.
---
BIBI MCKNIGHT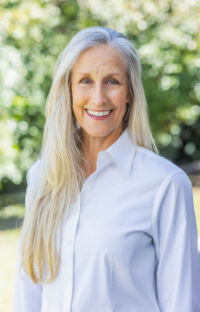 Raised in Brownsville, TX by her European parents who moved here from Central America, Bibi grew up speaking English, Spanish, and German. She left Brownsville to attend the University of Texas in Austin where she met Dr. McKnight, her husband of 43 years. Bibi went on to attend the University of Texas School of Allied Health Sciences in Galveston, graduating with a Bachelor of Science degree in Physical Therapy, and practiced as a physical therapist for 7 years at Baylor Hospital. Beginning in 1987 she has worked as our bookkeeper doing payroll, accounts payable, and generally helping out. Bibi and Dr. McKnight have 4 children and 11 grandchildren that keep their calendars packed with fun. She has been with Dr. McKnight on every mission trip he has done for the past 27 years doing dentistry, construction, medical assisting, and translating. Bibi is an avid Cross Fitter and enjoys hiking, kayaking, cooking, traveling, and being with family and friends.
---