Dental Checkups & Cleanings – Mesquite, TX
We Want to Keep You Smiling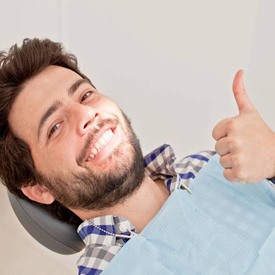 If you practice good oral hygiene at home, you may think that you don't need to see the dentist every six months. Think again. Your routine checkups and cleanings with Dr. McKnight play an integral part in maintaining your oral health. When you team up with your family dentist in Mesquite every six months, you'll be able to enjoy your natural, healthy, and happy smile for years to come.
What happens during a dental checkup?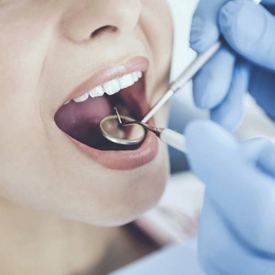 When Dr. McKnight performs a checkup, he visually inspects each tooth and your gums, mouth, tongue, and throat for any signs of serious conditions, such as tooth decay and gum disease. He also conducts an oral cancer screening. By checking for these conditions every six months, he is able to find and treat problems before they progress to more advanced stages, in which more damage can be done. Early detection and treatment of oral conditions is key to restoring and preserving your natural smile and oral health.
During your checkup, take the opportunity to ask Dr. McKnight any questions or raise any concerns you may have about your oral health or dental treatment.
What happens during a dental cleaning?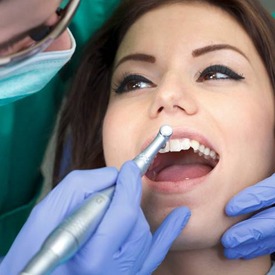 No matter how diligently you brush and floss on your own, plaque can build up in your mouth over time. Although it starts out sticky and easy to remove, within hours plaque can harden or calcify into tartar, which can only be removed with professional tools. The harmful bacteria in your mouth then have easier and constant access to your teeth and gums. If allowed to remain there, these bacteria cause tooth decay and gingivitis. At your dental cleaning every six months, your hygienist addresses the plaque and tartar on and in between your teeth, essentially wiping the slate clean and preventing oral problems before they have a chance to begin.
During your cleaning, your hygienist may also share some tips for how you can improve your daily oral hygiene practices, such as demonstrating the proper way to floss, or some recommendations for quality toothbrushes, toothpastes, and mouthwashes for your dental care.
After your cleaning, you may receive a fluoride treatment, which helps strengthen your teeth's enamel against decay. It is a quick, painless way to protect your teeth between visits.
If you attend your routine dental checkup and cleaning twice a year, you will leave equipped to help keep your mouth healthy for the next six months and with your teeth feeling clean and fresh. To schedule your dental checkup and cleaning, contact us today!