Multiple Tooth Replacement – Mesquite, TX
Rebuild a Beautiful Smile with Dental Implants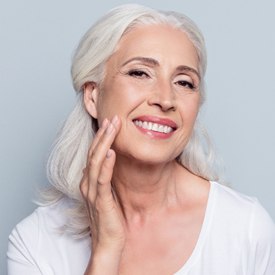 Every tooth is important for more than just chewing. They are also influential to your self-esteem. If you have lost a few teeth over the years, you know firsthand the effects an incomplete smile has on your confidence. You don't need to hide your mouth any longer. Dr. McKnight offers the solutions you need for multiple tooth replacement.
Non-Implant Tooth Replacement Options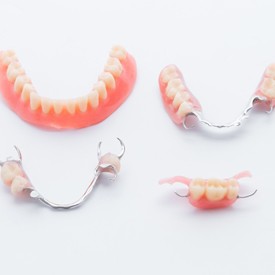 2 or more consecutive missing teeth can make it difficult to perform everyday tasks, like chewing. Not to mention, there are serious complications occurring beneath your gum tissue. Your jawbone is slowly deteriorating, which is making any remaining natural teeth lose the support they rely on to stay in place. Over time, they may loosen and fall out. Dr. McKnight can preserve your smile using a treatment that meets your needs. Depending on how many teeth you are missing, you may need:
Crown & Bridge: 1 to 3 consecutive missing teeth are traditionally replaced using a crown and bridge. An impression of your mouth is taken to replicate the teeth you have lost. This creates a bridge to fill the empty space, which is held in place by reshaping the adjacent teeth to bond dental crowns to them.
Partial Dentures: Partial dentures are used to replace several missing teeth. Prosthetics are designed to mimic their size, shape, and color. They are held in a gum-colored base, which has a metal framework. This allows it to clip or clasp onto your remaining teeth to hold it in place
Full Dentures: An entire arch of missing teeth can be replaced using a traditional denture. Now, new innovations had improved their fit to minimize slipping and irritation. As an alternative to using suction or an adhesive to hold your denture in place, you can anchor it to your jawbone using dental implants.
The Dental Implant Process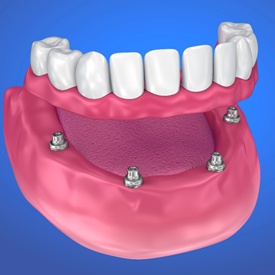 Dental implants can replace one, multiple, or all your missing teeth. An implant post is surgically placed into your jawbone to act as a new tooth root. This stimulates your jaw to encourage new bone growth. Your bone fuses to the post through a process called osseointegration. After your jaw heals, an abutment is attached to the post to connect your restoration. The number of posts and restoration needed vary depending on how many teeth you are replacing.
---
Benefits of Implant-Retained Prosthetics
Dental implants are the only solution to treat the entire tooth structure. As a result, they offer several advantages that are not possible with traditional treatments, including:
Over a 95% success rate.
Looks and feels natural.
Regain 70% of your biting force.
Eliminates slipping and irritation.
Preserves your bone density.
Improves your oral health.
Does not alter healthy teeth.
Supports your facial tissues.
Long-term solution.
Cost-effective.
Easy maintenance & care.
---
Schedule an Appointment Today!
If you are ready to stop feeling insecure about your smile, Dr. McKnight can help. He provides the individualized solutions you need to replace your missing teeth. Contact our office today to see if dental implants are right for you.