Teeth Whitening in Mesquite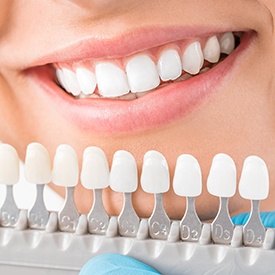 White teeth are a sign of youth and vitality. Over time, everyone's smile fades. However, we can help brighten your smile with our professional teeth whitening treatments. Dr. McKnight offers both in-office and take-home teeth whitening so you can get the smile you want in a way that best fits your schedule. While it may be tempting to look for an over-the-counter home whitening system, our whitening options will give you a more dramatic result that lasts significantly longer than any other prepackaged choice. Currently, the American Dental Association only recommends home teeth whitening systems dispensed by a dentist.
If you elect to have your teeth whitening done in our office, we will carefully isolate your teeth and apply the powerful bleaching gel to them. We will carefully monitor your treatment and reapply the gel every 15 minutes, creating the whitest result possible. In about an hour, your teeth will become several shades whiter. You can relax while you whiten with our spa dentistry amenities. Our in-office treatment will also include a set of custom trays to allow you to touch-up your smile at home, maintaining your result for years to come.
If you have a busy schedule and would like to use at-home teeth whitening, we will create custom bleaching trays just for you. Wear the trays at your convenience to regain the bright smile of your youth.