How Dental Implants Work – Mesquite, TX
Understanding Your New and Improved Smile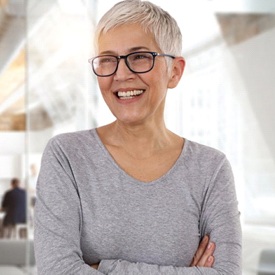 Before you begin the process of rebuilding your smile after tooth loss, it's important to have a basic idea of how dental implants work in Mesquite. Part of your initial consultation will involve our team laying out the steps of the treatment process, including an estimated timeline and pricing information. While every patient's smile journey is different, you can find some of the basics described below. When you're ready to get started on rebuilding your smile, contact us to schedule a dental implant consultation with our very own Dr. Byron McKnight.
Initial Dental Implant Consultation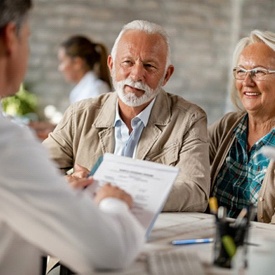 The first step in replacing your missing teeth is attending a consultation with Dr. McKnight. During this appointment, we'll carefully examine your smile, go over your restoration options, and develop a personalized dental implant treatment plan. Before placing implants, we may recommend one or more preparatory procedures, such as bone grafting, to ensure your mouth is able to support as many implants as you need to enjoy a full smile again.
Dental Implant Surgery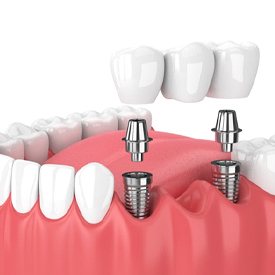 Once your smile is ready, you can go ahead and schedule your dental implant placement surgery. Many other dentists have to refer patients to an outside specialist for this step in the process, but as an implant dentist in Mesquite, Dr. McKnight can perform this procedure right here in our office.
Dental Implant Osseointegration & Abutment Placement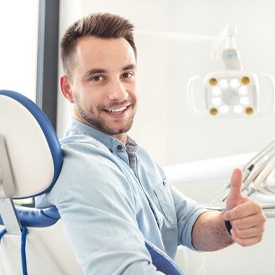 After your implants have been placed, they will gradually fuse to your jawbone. This process is called osseointegration, and it can take anywhere from three to six months. Once osseointegration is complete, we'll perform another, smaller surgery in which we place abutments. These little metal attachments will allow your dental implants in Mesquite to support your custom-made restoration.
Placement of Dental Implant Restorations
Once the abutments are in position, we'll take impressions of your mouth. The data is then sent to a dental lab, where your crown, bridge, or denture will be designed to our exact specifications. A few weeks later, you'll return to our office and we'll permanently cement your restoration into place, instantly completing your smile!