Single Tooth Replacement – Mesquite, TX
Achieve a Flawless Smile via Natural Tooth Replacement!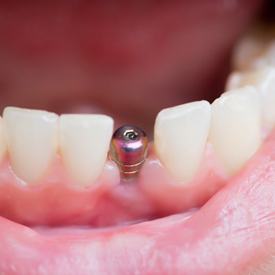 Many people don't realize it, but a startling number of Americans are missing teeth. In fact, the American College of Prosthodontists estimates about 178 million people in the U.S. alone are missing at least one tooth. Out of that population, 40 million are missing all of their teeth. The best way to prevent future tooth loss is to address the teeth in your smile that are already missing. Not only do teeth never grow back, but once enamel has been damaged, it's gone for good. If you're ready to address your tooth loss, consider a single tooth replacement via dental implants from Dr. McKnight! Give our office a call to get started.
Single Tooth Replacement Options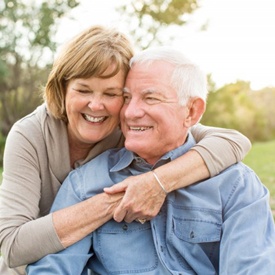 When it comes to replacing teeth, patients generally need to decide between fixed bridges and dental implants. However, these options are not created equal.
For one, fixed bridges are made up of a series of crowns that are fused together. Think of them as one long crown with a full tooth (pontic) separating the rest of the crowns. When replacing a single tooth, a pontic has two crowns attached on either side. In order to be properly stabilized, neighboring teeth need to be buffed down to hold the restoration. That means in order to replace one tooth via a fixed bridge, you need to sacrifice existing tooth structure in the process.
Dental implants on the other hand do not require neighboring teeth to act as an anchor. Because the titanium implant post is strong enough to hold the tooth on its own, there's no need to remove existing tooth structure. Furthermore, dental implants take tooth replacement a step further by replacing the entire tooth, including the root that sits underneath the gums. Fixed bridges do not do this and therefore cannot provide the same restorative benefits of dental implants.
Benefits of Implant-Supported Single Tooth Replacement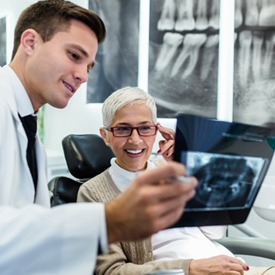 It is true that both fixed bridges and dental implants prevent neighboring teeth from shifting. When teeth are missing, your remaining teeth will shift into the empty space as a way to compensate. However, this can result in your bite becoming uneven. An uneven bite is more likely to cause teeth grinding and stress on the temporomandibular joints. Preventing these consequences is a benefit shared between bridges and dental implants.
With that said, dental implants offer many benefits that make them unique. If you intend on replacing single teeth in this way, you can expect:
Optimal preservation of existing bone and gum tissue, allowing the jaw to remain strong and its shape to remain pronounced.
The most natural-looking tooth replacement possible.
The ability to eat all the foods you enjoy, including tougher foods like steak or apples.
A truly long-lasting tooth replacement solution, averaging about 25 years to a lifetime of use.
A safe and reliable form of tooth replacement (success rates average 95 to 98 percent when properly maintained.)
---
Call Our Mesquite Office Today!
Don't put off replacing your missing tooth any longer. To get in contact with Dr. McKnight to discuss your next tooth replacement, give our Mesquite office a call! We're experienced the creation and placement of high-quality dental restorations, including dental implants.