August 17, 2022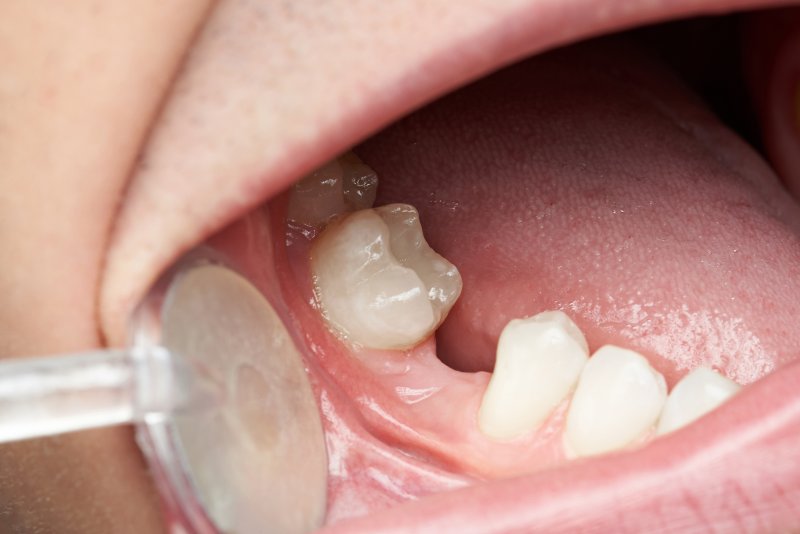 You may not see why it's a big deal if you have a missing back tooth. After all, it's not visible to the people around you or making your smile look less pleasant. However, the problem goes deeper than mere cosmetics. Left untreated, your missing tooth could cause long-term harm to your oral health. If you're interested in learning more, your Mesquite dentist can help. Here's a summary of risks surrounding a missing back tooth and why to replace it with a dental implant.
What are the Risks of a Missing Back Tooth?
While not having a back tooth won't affect your smile (at first), it could damage your mouth over time. If you don't do anything about the issue, you could experience:
A Crooked Smile
The gap left by your missing tooth will gradually pull other teeth towards itself. As that happens, your remaining pearly whites will shift and become misaligned. Eventually, your whole smile could start to look crooked and uneven.
Tooth Erosion (and Loss)
When you have missing teeth, the others have to work harder. In doing so, though, they suffer more wear and tear. This process can lead to premature erosion and other dental issues.
Tooth erosion and misalignment (see above), in turn, could trigger tooth loss. Your smile will then look poorer, and chewing will become more challenging.
Bone Loss in Your Jaw
Without the stimulation from your now-missing back tooth, your jaw will gradually reabsorb bone from the area. That bone loss will make your mouth shift and sag, leading to an older appearance. Since facial features are aligned, the loss can also cause muscles to droop.
Why Switch to a Dental Implant?
By acting quickly and replacing your missing back tooth with a dental implant, you'd experience many benefits. Some of the most prominent ones are:
A Long-Lasting, Lifelike Smile: Dental implants match natural teeth in looks and function. As a result, they seamlessly blend with your smile and improve your chewing ability. Best of all, they can last up to twenty years with proper care.
A Younger, More Vibrant Face: Since a dental implant fuses with your jaw, it stimulates and preserves the surrounding bone. Consequently, it keeps your face looking young and free of droopiness.
Low-Maintenance Oral Care: Cleaning your dental implant(s) is as easy as caring for natural teeth. In other words, you just need to brush them twice daily, floss once daily, and rinse with mouthwash!
It may not seem like trouble now, but a missing back tooth will cause headaches if left alone. See your local dentist for implant treatment as soon as possible.
About the Author
Dr. Byron McKnight is a dentist based in Mesquite, TX, having earned his DDS from the Texas A&M College of Dentistry. His specialties include preventive, cosmetic, and restorative dentistry, all using the latest dental technology. He's been recognized by Texas Monthly Magazine as one of their "Texas Super Dentists" for over ten years. Dr. McKnight currently practices at his self-titled clinic and is reachable on his website or by phone at (972)-698-8000.
Comments Off

on Why Should I Replace a Missing Back Tooth?
No Comments
No comments yet.
RSS feed for comments on this post.
Sorry, the comment form is closed at this time.