May 18, 2020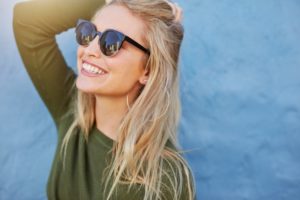 After months of the COVID-19 pandemic, the country is slowly easing its stay-at-home-orders. Are you ready to go out and safely enjoy your favorite activities again? Even if you've gained a few pounds or desperately need a haircut, you can enjoy a brilliant set of pearly whites right away. Get ready to make the most of your summer after quarantine with teeth whitening in Mesquite and a bright, sunny smile!
How Did My Teeth Get Discolored?
As you glance at the mirror before heading outside after quarantine, you may be surprised to find your teeth aren't as white as you remember. While they may have been sparkling before the COVID-19 pandemic, there are plenty of factors that might have discolored them while you stayed at home, like:
Munching mindlessly: If you spent your time in quarantine snacking or stress-eating sugary comfort foods like pasta sauce, soy sauce, berries, soda, coffee, or wine, your teeth may have become stained.
Stress from COVID-19: Stress can cause teeth grinding, nervous chewing on hard objects, and an increase in smoking, which can all weaken teeth and leave them more susceptible to discoloration.
Poor dental hygiene: Practicing a thorough daily dental routine is key to clearing away plaque and dark-colored pigments on your teeth. If you let your dental care habits slide during quarantine, your teeth can quickly take on a dirty hue.
Advantages of Professional Teeth Whitening
There are plenty of teeth whitening products you can buy online or at your local grocery store. However, these can only offer a one-size-fits-all approach that often results in sensitive teeth and subpar results. On the other hand, a professional teeth whitening treatment from your dentist is tailored for each patient to fit a variety of needs. The custom-made whitening trays are designed to fit your unique smile for a comfortable, safe, and fast whitening experience. You can even get a brighter smile from the convenience of your own home with an at-home whitening kit!
Benefits of a Bright Smile
With all the changes to what "normal" looks like due to COVID-19, whiter teeth may not be the first thing on your mind. However, this simple and affordable treatment can have a meaningful impact on your life coming out of quarantine, including:
Improved oral and overall health: Studies show that when people invest in enhancing the look of their smile, they're more likely to practice great oral hygiene. Not only will this help lower your risk of cavities and gum disease, but a healthy mouth encourages a strong immune system.
Feeling happier and more relaxed: You'll naturally start to smile more when you're proud of the way your teeth look. Smiling triggers the release of dopamine, endorphins, and other chemicals that help you feel happy, confident, and relaxed.
Boosting the mood of the people around you: Smiling is contagious, so the more you smile, the more those around you will as well. This sets off the same feel-good chemical reaction in their brain and lifts their mood as well.
The COVID-19 pandemic has changed many aspects of our lives, but it hasn't changed the importance of a heartfelt smile. Kick summer off with a teeth whitening treatment from your Mesquite dentist and leave quarantine with a smile that's sunny and bright!
About the Author
As of May 18th, 2020, Dr. Byron McKnight is thrilled to welcome his patients back to his Mesquite, TX practice. He and his staff have always put the safety of their patients first and exceed the infection control protocols set forth by the Centers for Disease Control and Prevention. In these unusual times, they have changed what "normal" dental visits look like to ensure you are as safe as possible when you come in to care for your smile. To learn more about his dedication to your safety, please feel free to reach him via his website or at (972) 698-8000.
Comments Off

on Come Out of Quarantine with a Dazzlingly Bright Smile!
No Comments
No comments yet.
RSS feed for comments on this post.
Sorry, the comment form is closed at this time.