July 7, 2020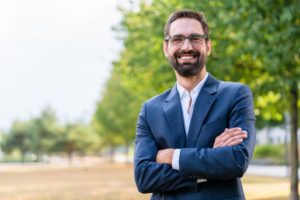 A dazzling set of pearly whites can improve your quality of life in a variety of ways. Not only will it boost your appearance, but it can change how others perceive your personality as well. In fact, research indicates that a less-than-stellar smiles can negatively influence your chances during a job interview or when asking for a promotion. Find out how teeth whitening in Mesquite can help you achieve a beautiful smile and land the job you've always wanted.
Your Smile Can Set You Apart from the Competition
It's common knowledge that smiling will make you appear more friendly and approachable. Additionally, a variety of studies have found that people typically associate an aesthetically pleasing smile with health, youth, and attractiveness. Researchers have been working tirelessly to understand how this change in social perception can influence career advancement. In a recent study conducted by Kelton Research, those with whitened teeth in a simulated job interview were:
More likely to get hired.
Offered higher salaries.
Viewed as more professional.
Smiling Can Highlight Your Soft Skills
"Hard skills," training, and ability will always be important when a hiring professional is searching for the perfect candidate. However, a majority report that "soft skills" like creativity, collaboration, and time management are just as important. These less-measurable traits show a person's emotional intelligence, adaptability, and ability to work well under pressure. While a sincere smile can't convey all of your soft skills, it may be able to highlight a few very important ones that will set you apart from the crowd. Studies show that smiling can make you appear more confident, capable, and trustworthy, which are important factors employers take into consideration when choosing who to hire.
The Advantages of Professional Teeth Whitening
One of the easiest ways to improve your confidence in the look of your smile is by whitening your teeth. There are countless over-the-counter whiteners to choose from, but they can often result in gum irritation, tooth sensitivity, and subpar results. Thankfully, you can quickly and comfortably get the dramatic results you want with the help of your Mesquite cosmetic dentist. Some advantages of choosing a professional treatment over a store-bought product include:
Professional-grade products: Professional whitening agents are much more powerful than anything you can buy at the store and reliably result in drastically brighter teeth.
Customized applications for personalized treatment: The application trays and whitening agents can be adjusted and personalized for the most comfortable treatment.
Long-lasting results: With the proper care, you can expect your smile to stay dazzling for several years to come.
Is your smile helping you on your path to success? Talk to your dentist about professional teeth whitening and start living your best life right away!
About the Author
Dr. Byron McKnight has been serving Mesquite, TX and the surrounding communities with award-winning dentistry since 1986. As a life-long learner, he has completed over 2,500 hours of continuing education in topics like dental implants, sleep apnea, and cosmetic dentistry. Whether your teeth are discolored from your diet choices or deeply stained from fluorosis or medication, he can help you regain a dazzling smile. To learn more about the benefits of professional teeth whitening, feel free to contact him via his website or at (972) 698-8000.
Comments Off

on A Brighter Smile Can Help You Land Your Dream Job
No Comments
No comments yet.
RSS feed for comments on this post.
Sorry, the comment form is closed at this time.