February 28, 2019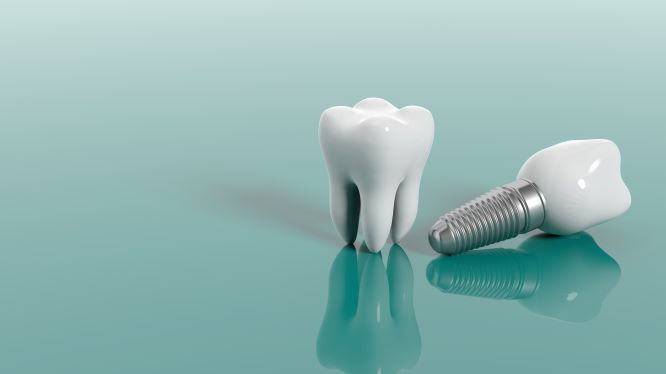 Dental implants in Mesquite are the option of choice when it comes to smile restoration. Unlike traditional dentures, they allow the patient to enjoy his or her favorite activities with complete peace of mind. Implants draw their strength from the patient's jaw bone, just like healthy natural teeth. This gives them greater durability than crowns or bridges, which rely on the surrounding teeth for their strength.
Five Ways in Which Dental Implants Are Better
Dentists developed implants to provide a superior solution to the problem of missing teeth, which currently afflicts up to 80 million Americans. Here are five ways in which implants better than older solutions:
Dental implants take their cue from Mother Nature's playbook. Look at an illustration of a healthy tooth and at the bottom you'll see a root-like structure embedded in the jaw itself. That's what gives your natural teeth their strength. Dental implants work the same way.
At the same time, implants are impervious to the bacteria that cause cavity and gum disease. This doesn't mean that you can overlook brushing and flossing after getting implants; just the opposite. But it does give the implant patient added peace of mind.
Dental implants require no messy adhesives to stay in place. Anyone who has worn traditional dentures knows how finicky they can be. The patient must use great care when speaking, preparing meals, exercising, and participating in sports. Otherwise he or she could be in for an embarrassing situation.
Dental implants help to maintain the patient's natural bone structure. This is a key advantage over traditional dentures, which sometimes promote bone resorption and the aesthetic concerns that accompany it.
Dental implants don't rely on the existing teeth for their strength. This is a key advantage over options like crowns and bridges.
A New Lease on Life, as Long as You Play by the Rules
We should stress that having dental implants is no excuse to neglect regular dental care. Ultimately, the restoration depends on the integrity of your facial bone structure, which in turn depends on you to make smart lifestyle choices. These include:
Caring for your implants as well as any remaining natural teeth. Your dentist will probably recommend that you use a nonabrasive brand of toothpaste going forward. It's important for you to brush 2-3 times a day and floss your natural teeth.
Being careful about what you put in your body. This of course means minimizing your consumption of sugar and simple starches, which can affect not only your natural teeth but your overall well-being. You should also avoid all forms of tobacco and consume alcohol only in moderation (if at all).
Staying physically active. Walking, running, resistance training, and sports participation are all fantastic ways to enjoy both better oral and overall health.
Dental implants are not the best restoration option for everyone. Only your dentist can recommend a specific course of treatment. Make an appointment to talk to him or her soon about the information in this post. You'll soon be on your way to a brighter smile and a better life.
About the Author
Dr. Byron McKnight is a skilled cosmetic dentist with expertise in dental implant therapy. He brings a caring, patient-centered focus to every aspect of his professional practice. You can reach his office online or by calling (972) 698-8000.
Comments Off

on Five Reasons Why Dental Implants in Mesquite Are a Better Solution
No Comments
No comments yet.
RSS feed for comments on this post.
Sorry, the comment form is closed at this time.