September 26, 2017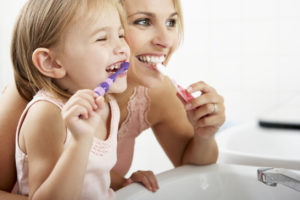 Have you been trying to get whiter teeth at home but face tooth sensitivity at the same time? You've been using a whitening toothpaste and have a twinging feeling every time you brush.
You may actually be using the wrong toothpaste and making your tooth sensitivity worse. If you're unsure of what toothpaste is actually best for you, continue reading this week's blog post. Your dentist in Mesquite is here to help you optimize your dental hygiene routine.
Get the Basics of Toothpaste
Toothpaste is only helpful if you're diligent about brushing your teeth as much as you're supposed to. What does that exactly mean? The standard of care set by the American Dental Association (ADA) is to brush at least twice a day—typically once in the morning and once at night. The bottom line is that no matter which type of toothpaste you choose to use, it has to be used consistently for you to truly reap its benefits.
Here Are Some Things to look For
Although toothpaste comes in a variety of forms, there are some common ingredients in most toothpastes:
Abrasive agents like calcium carbonate to help remove leftover foods, lingering dental bacteria, and surface stains.
Flavoring which is often added to make toothpaste taste better.
Substances like glycerol that helps prevent the paste from drying out quickly.
Fluoride to fight against tooth decay and cavities by making your tooth enamel stronger.
Get Specific With Your Toothpaste
There are different toothpastes that are formulated with particular dental issues in mind. Choose the best for you and your particular problem.
Tartar Control Toothpastes
This type of toothpaste includes anti-plaque agents like zinc citrate and pyrophosphate to help control tartar buildup. Most people don't know that tartar begins to form if dental plaque isn't removed within 24 hours if not properly removed. This toothpaste can help reduce the chance of harmful buildup if used consistently.
Teeth Whitening Toothpastes
These types of toothpastes contain certain chemicals and mild abrasives designed to help remove surface stains. Most tooth whitening toothpastes don't give the dramatic results that people want. It's best to ask your dentist about teeth whitening or the best whitening toothpaste to try.
Toothpastes for Sensitive Teeth
If you experience discomfort when trying to take care of your teeth, eat, or even when a cold breeze hits your smile, you may be experiencing tooth sensitivity. Toothpastes have been created to specifically help patients build up the protective layers of their teeth.
There are many toothpastes that are designed to do more than one job, but it's best to ask your dentist about which is best for you during your dental appointments.
---
About the Doctor
Dr. McKnight considers the big picture when it comes to your dental care. He takes a comprehensive approach to your oral health and offers the best suggestions for you to reach your goals. If you truly want a healthy smile that's beautiful too, it's time to stop by the office of Dr. Byron McKnight.
Comments Off

on Ask Your Dentist in Mesquite Which Toothpaste To Use
No Comments
No comments yet.
RSS feed for comments on this post.
Sorry, the comment form is closed at this time.