May 31, 2017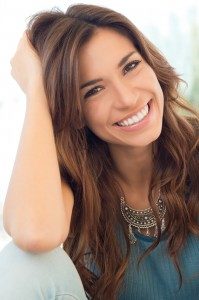 Living with missing teeth creates certain challenges, such as restrictions to your diet and low self-esteem. However, the complications of tooth loss extend far deeper to negatively impact your oral health as well. To restore your dental health and quality of life, you need an effective solution to complete your smile. While you could choose a traditional option, like a bridge and crowns, you could benefit from a permanent solution with dental implants in Mesquite. Dental implants offer exceptional benefits that just are not possible with other options. Dr. Byron McKnight will help you regain a complete, confident smile using the most preferred option for tooth replacement.

Are Dental Implants Right for Me?
A dental implant is composed of three main parts: an implant post, an abutment, and a dental crown, which replace the root and crown of a tooth. Unlike other dental prosthetics, you will need a multi-phased treatment process that does include surgery. To ensure the success of the procedure, you will need a thorough consultation.
A visual examination and diagnostic images are preformed to access your gum and bone health. Since the implant post is surgically placed into the jawbone, you must have enough bone density to support it. As a result, if you have any bone conditions or have had radiation to the head or neck, you may not be a candidate.
The biggest threat to implant failure involves infection, which is why you must have healthy gums. In addition, you cannot have medication conditions or lifestyle habits, like smoking, that limit your body's ability to heal and fight infections.
What Can I Expect with Dental Implants?
If you are a candidate for the treatment, you may require additional procedures, such as bone grafting or tooth extractions, prior to having the implant post placed. The first phase of the treatment involves the surgical placement of the implant post into the jawbone. This requires a surgery to open the gum tissue to drill a hole into the jawbone to insert the post. The gum tissue will be closed and you will spend the next few weeks healing. With the post in place, the bone will remain stimulated to maintain its density.
Since the post is made from titanium, it is biocompatible, allowing the jawbone to fuse to it. A few weeks after the post is placed, the jawbone will be healed enough to allow for the second phase of treatment. This involves a second minor surgery to attach an abutment to the post. This is a connector piece between the post and the dental crown. A couple of weeks after the abutment is placed, the dental restoration is attached to complete your smile.
Where Can I Get Dental Implants?
If you are ready to permanently replace your missing teeth with the most predictable and effective solution, it is time to schedule your consultation with your dentist in Mesquite. Dr. McKnight will evaluate your dental health to determine if you are a candidate for the procedure. Using the best dental technology and proven procedures, you will regain a confident, function, and healthy smile.
Comments Off

on Transform Your Smile with Dental Implants in Mesquite
No Comments
No comments yet.
RSS feed for comments on this post.
Sorry, the comment form is closed at this time.