November 4, 2021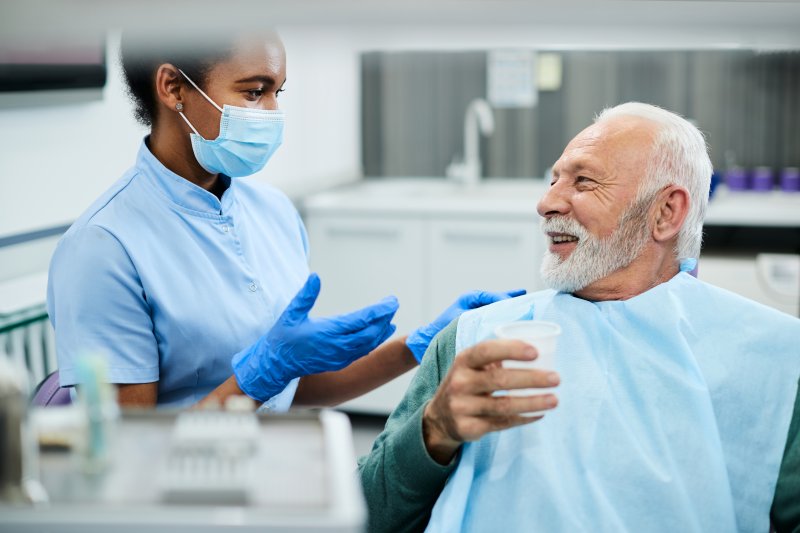 If you're in search of replacement options for one or more missing teeth, you're in luck! There are many ways to replace missing teeth, including dental bridges and partial dentures. Though both restorations are great ways to fill out your smile, how do you know what to get? Since it can be difficult to know which one is the best option for you, here's the difference between partial dentures and dental bridges in Mesquite.
What Are Dental Bridges?
Dental bridges are permanent appliances that replace one or more missing teeth. They are made from several pieces fused together to fit into the space where your tooth or teeth used to be. They allow you to eat better and speak more clearly as well as restore the function and appearance of your smile. Bridges can be made of several different types of material, but porcelain is most often used since it can be color-matched to your natural teeth.
What Are Partial Dentures?
Partial dentures are removable dental restorations that replace multiple teeth and can enhance the wearer's ability to chew and speak properly. Additionally, they can preserve the placement of the remaining teeth and prevent them from shifting over time. Partial dentures aren't usually worn around the clock and are meant to be removed and cleaned at night. Though the removable nature of this restoration and concerns over how realistic they will look is a cause for concern for some patients, they are a great option for replacing missing teeth and completing your smile.
Which One Should I Choose?
Both dental bridges and partial dentures are great ways to replace missing teeth. Even so, there are a few differences to consider when deciding which one is best for you. Dental bridges are better for replacing consecutive missing teeth. They can also last up to 15 years and look completely natural. Bridges are also more expensive and require tooth enamel removal to accommodate dental crowns. Though they can be brushed while you're wearing them, they can be difficult to floss under.
Alternatively, partial dentures can be used throughout the mouth to replace missing teeth. They are also the more cost-effective option. That being said, partial dentures only tend to last 5 to 7 years. They also need to be removed each night to be cleaned and soaked.
Since both of these dental restorations are great ways to replace one or more missing teeth, make sure to speak with your dentist before making a decision. They'll be able to recommend the best option for restoring your smile!
About the Practice
Are you a resident of Mesquite or the surrounding communities in search of a kind, compassionate team of oral health professionals to replace your missing teeth? You've come to the right place! Dr. Byron McKnight and his team are here to help you fill out your smile with one of their various tooth replacement options. They will also teach you how to better your oral health so your remaining teeth stay healthy and beautiful. If you're interested in scheduling an appointment or want more information about tooth replacement options, call them at (972) 698-8000 or visit their website.
Comments Off

on Dental Bridge VS Partial Denture – Which Is Best for Me?
No Comments
No comments yet.
RSS feed for comments on this post.
Sorry, the comment form is closed at this time.