March 24, 2020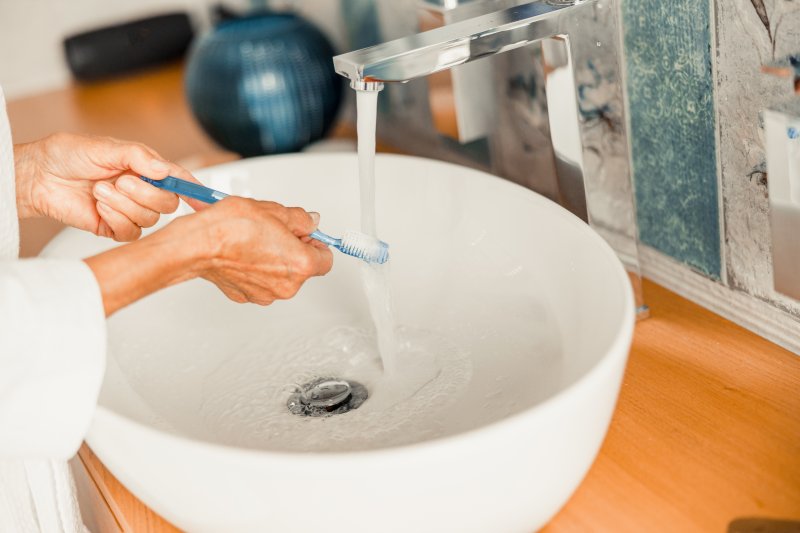 With COVID-19 (Coronavirus) sweeping the nation, medical professionals are doing their best to educate the public about the best ways to slow down its spread. It turns out that at-home dental habits can have a significant impact. If you want to know what you can be doing on your own to encourage the best oral health and combat the ongoing COVID-19 threat, then continue reading to get some simple and effective tips.
How Dentists are Helping to Fight COVID-19
Dentists are experts in infection control, as they are required to follow strict guidelines to keep patients safe in their office. Thus, they have valuable input on ways to slow down the encroachment of Coronavirus through cleanliness and excellent dental care habits.
Wash Your Hands Before Brushing
The hands play a major role in the transmission of COVID-19. If they become contaminated and you touch your mouth, nostrils or eyes, you could possibly infect yourself. So before you start your oral hygiene routine, be sure to thoroughly wash your hands for 20 seconds. Once you're done cleaning your teeth, you should wash your face and hands again.
Disinfect Your Toothbrush Weekly
Your toothbrush is a germ magnet. To be on the safe side, you should do one of the following at least once a week:
Boil the toothbrush for five minutes.
Soak the handle and brush in hydrogen-peroxide.
Run the toothbrush through a full cycle in the dishwasher.
Rinse Your Toothbrush with Hot Water
After you're done cleaning your teeth, be sure to rinse the toothbrush under hot water. This will help to remove any lingering paste that could attract germs and bacteria.
Properly Store Your Toothbrush
It's important that when you're not using your toothbrush you store it where it won't be susceptible to germ and bacteria accumulation. You should avoid the following:
Placing it in a drawer or cabinet
Using a travel container or other small holders that close
Allowing multiple toothbrush heads to touch while sharing a holder
To keep your toothbrush as germ-free as possible, store it in an upright position so that it can dry, make sure it doesn't make contact with other brushes and keep the holder clean.
Currently, your local dentist is only providing emergency dental care, but as soon as the country overcomes the COVID-19 pandemic, he or she will be available to meet all your dental health needs. Until then, you can implement what you've learned here to fortify your teeth and gums, while protecting yourself, your family and others from the virus.
About the Author
Since entering the dental field, Dr. Byron McKnight has been steadfast in expanding his knowledge by taking over 2,500 hours of continuing education, that have covered a wide array of advanced dental topics. His commitment to excellence has allowed him to provide the highest quality of care to his patients. Always one to prioritize preventive methods, Dr. McKnight empowers his patients at his private practice, and he can be reached for more information through his website.
Comments Off

on Lessen Your Chances of COVID-19 Infection with Proper Oral Hygiene
No Comments
No comments yet.
RSS feed for comments on this post.
Sorry, the comment form is closed at this time.