January 14, 2020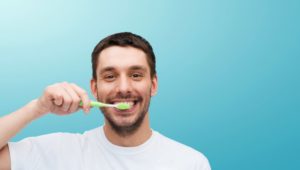 Did you know that taking great care of your teeth won't just give you a nice smile, but it can improve your overall health too? Research shows that maintaining your oral health reduces your chances of conditions like heart disease, oral cancer, and Alzheimer's disease. Plus, having a set of pearly whites you can't wait to show off means that you'll naturally start to smile more, which boosts your confidence, your appearance, and the mood of those around you! The best part is that it's easy to take care of your oral health! Here are some easy and practical habits for a happy, healthy smile!
Avoid Sugary Snacks
If you've made healthy habits in the past, this probably sounds familiar. Sugar causes the natural bacteria in your mouth to produce harmful acids that eventually lead to tooth decay and gum disease. To help your oral health and your waistline, make a habit of switching out your favorite sugary snacks with healthier ones. Smile-friendly foods like fish, cheese, yogurt, and broccoli are great choices because they have vitamins and minerals that strengthen your teeth and keep your gums healthy.
Brush Your Teeth Correctly
If you brush your teeth often but don't brush them correctly, you might be doing more harm than good. Over-aggressive brushing, toothbrushes with hard bristles, and highly abrasive toothpastes all scrub away at your enamel, causing your teeth to become weaker and more sensitive. Make sure your dental habits are keeping you healthy by only using soft-bristled toothbrushes and gentle toothpastes approved by the American Dental Association.
Start Flossing Regularly
Dentists estimate that even proper brushing techniques only remove 60% of the plaque from your mouth. The other 40% are hidden in places that toothbrush bristles can't reach, like between your teeth or underneath your gumline. Flossing is the only way to clean out those areas, and making it a habit is the key to keeping cavities and gum disease at bay. Try keeping your floss somewhere you can see it every time you brush your teeth, like on top of your toothpaste, so you don't forget to use it.
See Your Dentist Twice a Year
Even if your teeth look and feel fine, you still need to see your dentist for regular dental cleanings and checkups every six months. Your dentist is able to identify issues that you may not see or feel yet and begin treatment before they can cause you any discomfort. Getting a professional cleaning twice a year also keeps your smile shining bright, since your dentist can polish off any light surface stains or tough tarter that's built up on your teeth.
Taking care of your teeth is essential to a healthy body and a beautiful smile. If you incorporate these easy tips into your daily routine, you can enjoy all the benefits of a happy, healthy smile for many years to come!
About the Author
Dr. Byron McKnight is a preventive, restorative, and cosmetic dentist in Mesquite, TX. He has logged over 2,500 hours of continuing education in a range of advanced dental topics, and was awarded the Lifetime Achievement Award from the Academy of General Dentistry in 2009. Although he uses a variety of advanced dental technologies and services, he understands the value of simple, great dental habits in improving the smiles and lives of his patients. If you'd like to know more, he can be contacted at his website or at (972) 698-8000.
Comments Off

on Practical and Easy Habits for a Happy, Healthy Smile
No Comments
No comments yet.
RSS feed for comments on this post.
Sorry, the comment form is closed at this time.