August 30, 2019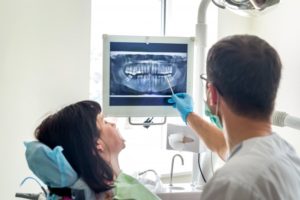 Dental implants are one of the most advanced modern restorative solutions available to patients. While they boast a 95 percent success rate, that doesn't mean that complications can't occur. Knowing what signs to look out for and what could cause this issue to develop can help you avoid implant failure. Although it's incredibly rare for this to happen, loose dental implants can occur. Read on to learn how to avoid or handle the situation if it happens.
The Main Causes of Loose Implants
Dental implants can come loose soon after the surgery, or even years later. When you know the causes, you can take extra steps to prevent it from occurring. If you notice that your implant is loose, it could be due to a variety of reasons, but you should immediately contact your dentist to schedule an appointment. Here are some causes:
Loose Restoration. This is a simple non-serious issue that can be easily fixed by your implant dentist. If your crown, bridge, or denture is loose, it may need to just be tightened or replaced.
Jawbone Loss. Your implants' success is heavily reliant on your jawbone because that's what they're anchored into. If it loses mass after your surgery, it could be a sign that the implants never properly fused with your jawbone.
Peri-implantitis. This is a common type of gum disease associated with restorations like dentures and is often caused by poor oral hygiene. If you notice it in its early stages, you may be able to prevent the progression and reverse the symptoms.
Spotting the Signs of a Loose Dental Implant
Knowing the signs and symptoms of a loose implant can help you act quickly to avoid further damage and may even save the restoration. If you notice that the post is moving around in your mouth or has fallen out, you need to immediately let your implant dentist know. Some other signs to keep an eye out for include:
Pain or discomfort
Bone loss or a sinking facial structure
Bleeding when touched
Discoloration around the affected area
This is just another reason to visit your dentist for routine checkups and cleanings every six months. This way, you can let them know if you've noticed anything out of the ordinary and they can inspect your mouth to make sure everything looks good.
Treatment Options Your Implant Dentist May Recommend
Depending on the severity of your issue, your dentist can recommend a variety of treatments. They may decide that removing the post is the best option if it's loose because of an infection or has failed to integrate with your jawbone. However, they may determine that a thorough cleaning may do the trick. During this, they'll remove the restoration and sanitize the site. They can also examine it to see if it needs to be replaced.
Dental implants offer patients countless benefits that aren't available with traditional restorations. Your implant dentist utilizes the most advanced dental technology to make the procedure precise, accurate, safe, and very successful. Don't hesitate to contact them if you have any concerns or questions!
About the Author
Dr. Byron McKnight is dedicated to providing his patients with reliable and exceptional results. He values taking his time to thoroughly evaluate and treat his patients so he can accurately evaluate their desires and needs. He has completed over 2,500 hours of continuing education credits for advanced procedures such as dental implants and complex restorative dentistry. He is also an assistant clinical professor at Baylor College of Dentistry and has been named "Texas Super Dentist" by Texas Monthly Magazine for over 10 years in a row. For questions or to schedule a consultation for dental implants, visit his website or call 972-698-8000.
Comments Off

on Are Your Dental Implants Loose? Here's What's Causing it and What You Should Do
No Comments
No comments yet.
RSS feed for comments on this post.
Sorry, the comment form is closed at this time.