December 28, 2018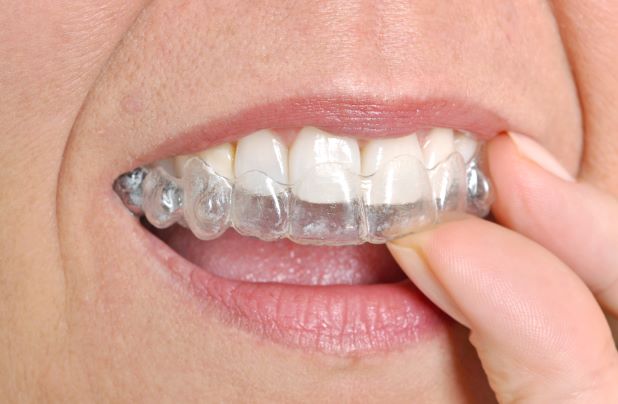 Lots of people want to know more about Invisalign in Mesquite. Who can benefit from the treatment? How long does it take to see results? Is it comfortable? Is it affordable? In this post we'll give you the facts you need. Use this information along with input from your dentist to make informed decisions about your teeth alignment options.
How Invisalign Works
Invisalign therapy was developed by dental researchers as a way to overcome the limitations of traditional braces. Invisalign therapy involves wearing a series of lightweight, transparent aligners, each for a period of around 10 days to two weeks.
Invisalign offers many advantages over traditional braces. These include:
Low-profile appearance. The aligners are made from a clear material that most casual observers will never notice. This fact allows the wearer to feel at ease in professional, social, and interpersonal situations.
Convenience. The wearer can remove the aligners for up to two hours per day. This makes eating, brushing, and tending to other personal needs easier.
Comfort. Invisalign aligners require no wires or other metal components.
Practicality. Invisalign aligners present no hindrance to people who travel for business or personal reasons. Each set of aligners fits into its own compact case for easy storage in a briefcase or piece of luggage.
Lasting benefits. Once Invisalign therapy is complete, the patient only needs to wear a nightly retainer to maintain the improvements for life.
How Long Does Invisalign Therapy Take?
Most Invisalign patients accomplish their teeth alignment goals within 12 months. This assumes that the patient wears their aligners throughout the day except for brief periods devoted to brushing, meals, etc. Compare this to traditional braces, which may take up to three years to achieve the same effects.
Is Invisalign Only for Adults?
Traditionally, dentist have preferred to reserve Invisalign therapy for those whose teeth have stopped developing. However, many older teens can benefit from the product, either as a standalone approach or as a supplement to traditional braces.
Obtaining adequate results requires wearing the aligners for a substantial portion of the day. This may require a bit of self-discipline on the patient's part. Removing the product for more than brief periods can hinder results or prolong length of therapy.
Are Invisalign Aligners Easy to Care For?
Caring for Invisalign aligners is remarkably easy. The patient should remove the appliance after every meal to rinse out any food particles. He or she should also clean the product once a day using a soft bristle toothbrush and antimicrobial soap.
How Much Does Invisalign Cost?
The answer to this question will vary from one patient to the next. Most forms of dental insurance will cover part of the associated expense. The staff at your dentist's office can provide information about financing and other payment options.
The Bottom Line on Invisalign
Only your dentist in Mesquite can tell you if Invisalign is the solution you need. Make an appointment to talk to him or her soon about your treatment options. The facts you learn will have you smiling soon.
About the Author
Dr. Byron McKnight is a seasoned dental professional with thousands of hours of training and experience under his belt. Dr. McKnight received the Lifetime Achievement Award from the Academy of General Dentistry in 2009. You can reach his office online or by calling (972) 698-8000.
Comments Off

on Invisalign in Mesquite: How Long Will It Take to See Results?
No Comments
No comments yet.
RSS feed for comments on this post.
Sorry, the comment form is closed at this time.