November 13, 2018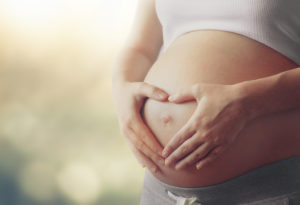 When you're pregnant, the last thing you're likely to think about is your gums (and understandably so!) Unfortunately, women are more likely to develop gum problems during pregnancy, which can adversely affect the health of their baby. In fact, researchers have found a surprising connection between inflammation of a mother's gums and her unborn child's development. To complicate matters further, many pregnant women find it difficult to maintain their oral hygiene because they're not only tired, but also busy preparing for the birth of their child. Fortunately, with professional care from a dentist inMesquite and a few good tips, you can still keep your gums in great shape and reduce the risks to your baby. Learn more below!
How Is Gum Health Related To Pregnancy?
According to Dr. Misee Harris, up to 70%of expectant mothers develop gingivitis, or inflamed gums, during pregnancy. This inflammation of the gum tissues can have multiple consequences, including premature birth and having a low-weight baby.
But why are pregnant women more susceptible to gingivitis? The primary reason is shifting hormone levels, which cause the gums to bleed easily or become puffy and tender.
The good news is that there are easy steps you can take to reduce gum inflammation and reduce the risk of pregnancy complications.
How Can You Keep Your Gums Healthy?
According to a survey done by the Australian Dental Association, most women avoid dental care during pregnancy. But getting regular checkups and cleanings is crucial for having healthy gums!
In fact, the benefits of professional cleanings during pregnancy are so well-known that some insurance companies will cover more than 2 per year, so be sure to check your benefits.
These visits are important because, in addition to removing the plaque and tartar that contributes to gum problems, a dentist will also assess your gums and give you specific tips tailored just for you.
In addition to professional care, here are some other things you can do at home for healthy gums:
Do well with brushing and flossing – Your oral hygiene habits don't have to be perfect, but you should be as consistent as possible. If you find that you're too tired to brush and floss at bedtime, try doing it right after dinner instead. Also, special tools can help a lot, such as an electric toothbrush, floss picks, or an oral irrigator. Even if you continue having bleeding gums from hormonal changes, don't give up – you'll greatly reduce inflammation by keeping your teeth and gums clean.
Eat a diet rich in fruits and vegetables – This can be as simple as having a smoothie at breakfast or adding vegetable soup and piece of fruit to your lunch each day. Fruits and vegetables are not only wonderful for your developing baby, but also give your body what it needs to have healthy teeth and gums.
Remember, a healthy mouth during pregnancy will help you have a healthy baby – and that's something to smile about!
About the Author
Dr. Byron McKnight is an award-winning family dentist in Mesquite who is regarded as a leader in the dental field. He's dedicated to helping people prevent oral health problems at every stage of life, so he always takes the time to educate his patients about the importance of healthy teeth and gums during pregnancy. If you have any other questions about how to improve your oral health, he can be reached via his website or at (972) 698-8000.
Comments Off

on Can Your Gums Affect Your Unborn Baby? A Dentist in Mesquite Says Yes!
No Comments
No comments yet.
RSS feed for comments on this post.
Sorry, the comment form is closed at this time.