June 8, 2018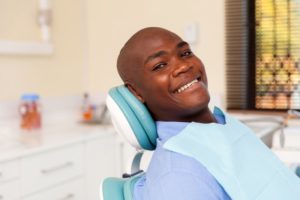 Does maintaining regular dental appointments factor greatly into your oral health? Will skipping a few make that much of a difference in the quality of your dental wellness? Your dentist in Mesquite weighs in to answer those and other questions by discussing the problems that can arise from neglecting your oral care and revealing how you can prevent the many oral health issues that can develop.
When you Skip Dental Visits, This Can Happen
Missing dental appointments hinders your oral health and can lead to three problems that could easily be avoided. They include:
Pain – Negligence can lead to painful situations because decay-causing bacteria eventually move past the enamel and then penetrate the dentin, where the first nerves are found. This causes pain sensations to radiate throughout the tooth. A simple, semi-annual visit, though, allows your dentist to identify the problem and then address it before it becomes major.
Time Lost – When the proactive method is taken, you can also avoid the agony of loosing your valuable time. That's made possible, again, by your local professional detecting dental issues early and restoring your oral health before a more invasive procedure that takes more time to complete and heal from is required.
Higher Costs – The more complicated the treatment needed, the higher the cost will be. Typically, insurance companies will cover up to 100 percent of preventive care visits, but the more complex your restorative needs become, the less coverage you'll have and the higher your contribution will be.
Why Time Matters
We return to a discussion of time again. Different from above, though, our focus is on the necessity of taking advantage of the time you have before you. Visiting your dentist before you have a dental emergency or a form of acute tooth decay, affords you the ability to pursue continued wellness instead of chasing away oral maladies.
While there, you'll receive a thorough cleaning and a tediously conducted examination to ensure that any lurking issues will be identified and addressed before they germinate into something worse. Not only will you leave your dentist's office with beautiful looking teeth, you'll also have the peace-of-mind of knowing that your oral cavity is as healthy as possible.
To get on the road to excellent dental wellness, reach out to your local dentist to schedule an appointment today!
About the Author
Since earning his DDS degree, Dr. Byron McKnight has had a very active and productive dental career. He relies on a meticulous nature and approach to providing care that ensures that each patient experiences absolute best in dental health. Additionally, Dr. McKnight has received over 2,500 hours of continuing education to hone his skills even more. To stay abreast of the latest changes in the world of dentistry, he also maintains membership in several professional organizations. Dr. McKnight can be reached for more information through his website.
Comments Off

on Your Dentist in Mesquite Says Skipping Visits Can Cause This
No Comments
No comments yet.
RSS feed for comments on this post.
Sorry, the comment form is closed at this time.