August 25, 2018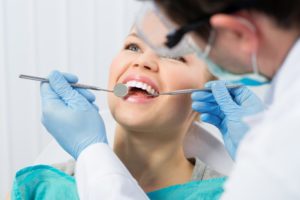 Having an experienced dentist in Mesquite to oversee your oral care is vital to improving and maintaining your dental health. If you're new to the area or even a long-time resident, finding the right professional may seem challenging. You may be left wondering, "Who can I trust my care to?" Thankfully, a local dentist provides some easy-to-follow guidelines that will make your search fruitful. Additionally, you'll learn more about the importance of preventive care.
Why Prevented Care?
One of the great benefits of finding the right dentist to work with is that you can attend preventive care visits. They offer a way to immediately start benefitting from your new relationship. Here are the two main services performed at these visits that enhance your oral health:
Cleanings – A vast majority of dental problems stem from the effects of bacteria accumulation. When many are allowed to gather, the different bacteria form a super structure called plaque, which can eventually form a hard substance called tartar. All three have corrosive effects on your teeth. The professional cleaning you'll receive at your dentist's office will clear away any lingering threats to your oral health.
Examinations – Equally as important as the cleanings performed are the examinations conducted by both the dental hygienist and the dentist. They will identify any existing problems with your oral health like cavities, signs of gum disease or jaw alignment problems. By being spotted early, the necessary steps can be taken to correct them.
Before you can benefit from any of these perks, though, you have to find a trusted dentist.
The First Step to Take
The first step you should take is to figure out what you're looking for in a dentist. In doing so, you'll be able to compare your wants and needs to what a prospective dentist has to offer.
Comprehensive Care
Even after identifying what you want and need, you should also evaluate your dentist's credentials to make sure he or she provides comprehensive care and has the ability to accommodate any new needs that could arise in the future.
Is the Dentist Patient?
When you visit for your consultation, observe the level of patience the dentist shows when fielding your questions. Is he or she driven to educate you while caring for your mouth, teeth and gums?
What's the Environment Like?
You should always assess the environment of the office. Is it clean? Is the staff friendly? All these components should factor into your decision because you're looking to establish a long-tern relationship.
Are the Location and Hours Convenient?
As mentioned earlier, your search should start with taking an assessment of your wants and needs. When doing so, don't forget to think about your time. What responsibilities do you have? Will they coincide with your dentist's office hours?
Also, take into account the location of the office. You can take a test drive there a day before your consultation to make sure that you're familiar with the area and that commuting there won't be a stressor.
A New Opportunity
Finding your new dentist is an opportunity to get a new lease on life by shoring up the care of your oral health. By applying what you've learned here, you'll be able to identify the right professional and enjoy an excellent future.
About the Author
Dr. Byron McKnight is both a practicing dentist and educator, serving as an Assistant Clinical Professor at Baylor College of Dentistry. To expand his vast knowledge, he has taken over 2500 hours of continued education in an array of areas, so that he can provide the absolute best care to his patients at his private practice. To start receiving the experienced and gentle care of a highly-accomplished dentist, you can contact Dr. McKnight through his website.
Comments Off

on Simple Guidelines for Finding the Right Dentist in Mesquite
No Comments
No comments yet.
RSS feed for comments on this post.
Sorry, the comment form is closed at this time.