August 16, 2016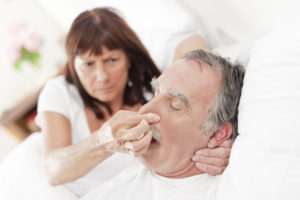 Does your spouse or your children complain that you snore? Loud snoring is a frequently a symptom of a sleep disorder called sleep apnea. Frequently diagnosed through a monitored sleep study, sleep apnea can be treated and its long-term health effects avoided. Dr. Byron McKnight, dentist in Mesquite, offers customized oral appliances and special CPAP (Continuous Positive Airway Pressure) masks as effective sleep apnea therapy so patients rest and health improves.
Sleep Apnea and Its Side Effects
Therapy of Obstructive Sleep Apnea in Mesquite helps avoids the long-term effects of this sleep disorder. Obstructive Sleep Apnea, or OSA, is the most common kind of sleep apnea, affecting millions of American adults of all ages and walks of life. It occurs when the tissues at the back of the throat relax and collapse over the airway, causing the characteristic vibration noise we call snoring.
Unfortunately, the interrupted airflow causes brain oxygen levels to drop, and the sufferer startles awake. Research indicates that people can awaken hundreds of times a night without even being aware of it. Disrupted sleep is just part of the picture. Dr. Byron McKnight says systemic health suffers in complex and serious ways.
The National Sleep Foundation, an organization dedicated to the science of sleep, says that when lack of rest and oxygen deprivation combine in sleep apnea, systemic health suffers. For instance, OSA patients experience heart conditions such as congestive heart failure and a cardiac arrhythmia called atrial fibrillation. These individuals have a higher rate of heart attack and stroke.
Also, liver function decreases, and some people develop Type-2 diabetes. Metabolic syndrome, characterized by hypertension, high serum cholesterol, increased blood sugar and thick waist circumference, plagues sleep apnea sufferers.
Besides these medical issues, OSA patients can experience:
Insomnia
Daytime exhaustion and sleepiness
Attention deficits
Memory issues
Depression
Irritability
Morning headaches
Mood swings
Sexual dysfunction
Therapies for Sleep Apnea
Dr. Byron McKnight has logged over 2500 of professional continuing education, including courses in sleep apnea and snoring. He provides the screening and treatment plans to get to the heart of sleep apnea problems. He custom-fits comfortable oral appliances which aid patients by positioning the lower jaw forward and opening the airway.
Depending on the how an individual's sleep apnea expresses itself, Dr. McKnight may prescribe a combination of an oral appliance and a CPAP machine. When these 2 strategies pair, the oral appliance allows the patient to use the CPAP machine less or at a lower, quieter setting. Plus, the innovative CPAP mask Dr. McKnight offers is smaller and much more easily tolerated that regular CPAP appliances.
Safeguard Your Health
You and yours know what your snoring is like. Document the symptoms by taking the
Epworth Sleepiness Test from the American  Sleep Apnea Association. Confer with your primary care physician. Then, contact McKnight Dental for a sleep apnea consultation. Sleep better, and stay healthy with sleep apnea treatment in Mesquite.
Comments Off

on Do You Need Sleep Apnea Therapy in Mesquite?
No Comments
No comments yet.
RSS feed for comments on this post.
Sorry, the comment form is closed at this time.