July 15, 2016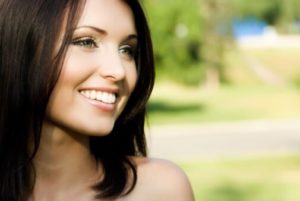 What do people dislike about their smiles? Yellowed, dull enamel makes people feel so uneasy they will not smile broadly when talking or getting their pictures taken. Studies show that a bright, friendly smile creates a great first impression– so critical in our image-conscious world.
How can you get your very best smile? Mesquite teeth whitening from Byron McKnight DDS helps individuals show ideal smiles through a one-visit, in-office treatment.  Some patients choose a gradual, but just as effective, version used in the privacy of their own homes.
How Mesquite teeth whitening works
Your cosmetic dentist in Mesquite evaluates a patient's teeth and gums to ensure freedom from decay,  multiple restorations and periodontal disease.  If all is ok,  the dentist proceeds with teeth whitening. The Mesquite dentist allows adults and older teens 2 options: in-office or at-home whitening, Both treatments brighten teeth by many shades of color.
Whitening gel contains concentrated hydrogen peroxide. Applied under the supervision of Dr. McKnight, the gel lifts out stains caused by organic material deep in tooth enamel. This discoloration is called extrinsic staining.
Stains develop over time. They come from what we eat and drink and also from tobacco usage. Smoking or dark foods, such as coffee, blueberries, soy sauce, cola, tea and red wine, are common causes of discoloration. Some medications stain enamel, too, as does not brushing and flossing well or neglecting professional dental cleanings.
The  in-office whitening procedure takes about one hour. Dr. McGuire's team uses a protective dam to protect the soft tissues of the mouth against sensitivity.  The gel is applied to the front side of the teeth every 15 minutes.
As the gel seeps in, toothlor brightens. After rinsing, the patient leaves the office with a dazzling smile–brighter by 8 to 10 shades! Years of stains vanish.
At home, the patient uses customized acrylic trays to apply the gel. The home version is not as concentrated as the in-office treatment; so the individual  wears the filled trays for a prescribed time daily. While more gradual, the whitening is just as dramatic.
The long-term effect
Mesquite teeth whitening makes a person feel better about his smile. Patients say they look and feel younger. They deal with social and professional situations more confidently. The American Academy of Cosmetic Dentistry says that an overwhelming majority of Americans believe that a bright smile helps them in dating situations.
Teeth whitening patients maintain their new color by:
Limiting staining foods and drinks
Stopping smoking
Brushing twice daily and flossing once a day
Getting 6-month exams and cleanings with their Mesquite dentist
Doing whitening touch-ups as needed
Does whitening sound good to you?
Dr. McKnight would be happy to tell you all about it during a friendly cosmetic dentistry consultation. Mesquite News has given Dr. McKnight the Best Cosmetic Dentist Award. So, you know you can trust him to do right by your smile. Contact the office today for an appointment.
Comments Off

on Facts about Mesquite teeth whitening
No Comments
No comments yet.
RSS feed for comments on this post.
Sorry, the comment form is closed at this time.