September 5, 2016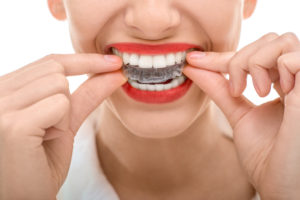 You like your world to be organized. You know where to find anything you can imagine in your house, whether it be an appliance or an old picture album. Your desk might look like a disaster to those around you, but you know exactly where everything is. Your whole life is streamlined. The only thing you can't seem to put in order are your teeth. They've been crooked for years, but the thought of facing the world with a mouthful of metal just doesn't work for you. Fortunately, you have an alternative with Invisalign in Mesquite.
How Does Invisalign Work?
Most people are probably familiar with traditional metal braces. Inevitably you knew someone who had them growing up. While metal braces have advanced over the years, they still can create quite a stark look for anyone who is wearing them. While this may work for children, professional adults and image conscious teens are not willing to make this concession. This is where Invisalign can help. Rather than using bulky brackets and wires, Invisalign utilizes clear plastic aligner trays to straighten your teeth. Your dentist in Mesquite, Dr. Byron McKnight, will create a series of customized trays that will gradually bring your teeth into alignment. You'll need to wear the trays in a specific order so they fit your teeth at each stage of treatment. You will need to wear each tray for 22 hours a day for about 2 weeks. Treatment usually takes anywhere from 8-18 months.
Invisalign vs. Traditional Braces
Invisalign has a number of advantages compared to traditional metal braces that make it much more appealing to a variety of patients:
Appearance: The trays themselves are practically invisible when worn, ensuring that your image will not be affected drastically like they would will metal braces. Most people will not be able to tell that you are wearing them.
Removable: The trays simply slip on and off of your teeth similar to a sports guard. This means you can take them out whenever you are eating or cleaning your teeth. You will not need to alter your diet, and it is much easier to maintain your dental hygiene.
Comfort: The smooth plastic is much more comfortable in the mouth and does not irritate the soft tissue of the gums and lips like braces do.
Time: Invisalign typically works faster to help straighten your teeth and requires less frequent visits to the dentist.
Invisalign assures that your orthodontic treatment adapts to your life, not the other way around.
But Can It Help Me?
If you think Invisalign might be the solution to help straighten your teeth, please make an appointment with us today. You can have it all: you can straighten your teeth and not have to wear braces. Comes get a straighter smile with us today.
Comments Off

on Braces vs. Invisalign in Mesquite
No Comments
No comments yet.
RSS feed for comments on this post.
Sorry, the comment form is closed at this time.