November 23, 2020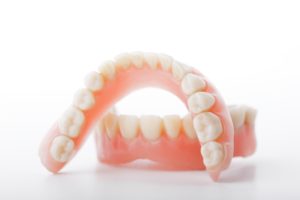 The latest advancements in dentistry make it possible to preserve natural teeth for longer than ever. Unfortunately, tooth loss is still a common problem. In fact, at least 35 million adults don't have any teeth left in one or both arches. Dentures are a popular choice to treat missing teeth because they are affordable, functional, and customized to look natural. There are several factors that influence the cost of dentures in Garland, but don't let that deter you from replacing your teeth. Your dentist offers the affordable, stress-free solutions you need to invest in a functional smile.
How Much Do Dentures Cost?
There isn't a set rate for dentures because they are several things that affect the amount you pay. Your dentist will provide you with a custom estimate during your initial consultation and discuss the fees associated with restoring your smile, such as:
Materials: There are less expensive materials; however, the saying is true, "you get what you pay for." Spending more on a higher quality material will give you a more durable option that shouldn't need to be replaced as often. On average, dentures need to be replaced about every 5 to 7 years. In addition, it will likely offer a more comfortable fit and look more natural.
Type: There are more than one type of denture, each with different costs. Depending on the number of teeth you're missing, you might need:

Partial Denture: Treats several missing teeth while relying on healthy teeth for support.

Full Denture: Replace an entire arch of teeth using a solution that rests on top the gum tissue.

Implant-Retained Denture: Relies on dental implants to secure the denture to the jawbone.

Location: Generally, cities with a higher cost of living charge more for dentures.
Specialists: Visiting a prosthodontist will cost more than a general dentist.
Can I Use My Dental Insurance?
Every policy is unique, but many dental insurance plans cover a portion of the cost of dentures. After reaching your annual deductible, your insurance can pay as much as 50% of the bill to help offset the amount you need to pay out-of-pocket. Your dentist will help you maximize your yearly allowance to help you treat your missing teeth without breaking the bank.
If there's any remaining balance, your dentist accepts several payment options, including third-party financing with CareCredit. They will help you invest in a complete smile using an affordable plan.
Complete Your Smile
Dentures are an excellent choice to restore a beautiful, functional smile. If you're interested in a more cost-effective treatment, ask your dentist about the benefits of dental implants in Garland. They can stabilize your denture using dental implants to give you a nearly perfect replica of your natural smile.
About Dr. Byron McKnight
Dr. McKnight not only earned his dental degree, but he has also completed over 2,500 hours of continued training to treat complex oral health issues, like tooth loss. Named "Best in Dallas" and "Texas Superior Dentist," you can rest assured you're in good hands. Contact our office today to schedule your consultation.
Comments Off

on Factors Influencing the Cost of Dentures
No Comments
No comments yet.
RSS feed for comments on this post.
Sorry, the comment form is closed at this time.