November 10, 2016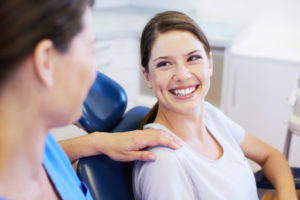 We're understanding more about how oral health is connected to overall health, thanks to emerging studies about how periodontal disease and other serious health concerns are linked. This information tells us that there's never been a better time to educate patients about their oral health and empower them to take charge of it. This allows patients to make educated decisions about the right dental care for their needs. Your dentist in Mesquite discusses the link between oral health and overall health.
What is Periodontal Disease?
Essentially an infection of your bone and soft tissues, periodontal (gum) disease occurs when excessive plaque buildup causes your gum tissue to separate from your tooth, allowing harmful bacteria below your gum line. This bacteria causes the infection of your gums and bone, and if left untreated, it will eventually destroy them and eliminate the support system for your teeth.
Gingivitis is the early stage of gum disease, and by being proactive about your oral health, we can help you effectively manage gingivitis with a professional cleaning and improved home care. In this stage, you may notice that your gums appear red and swollen, or they bleed when you brush. If you've noticed these symptoms we encourage you to contact Dr. Byron McKnight and come in for a cleaning and checkup because many patients are able to reverse gum disease during this stage.
Periodontitis is the advanced stage of gum disease and it's when the damage starts to occur. This stage of gum disease may require a deeper cleaning to reach below the gum line, antibiotic treatment, or surgery in some cases. Dr. McKnight and his highly skilled hygiene team are well equipped to help you manage any stage of gum disease you may be facing. Unfortunately, there's no cure, but we can help you keep your condition under control with additional visits and improvements to your home care.
The Oral Systemic Connection
The bacteria that causes gum disease can also enter your bloodstream and travel to other areas of your body contributing to the inflammation that causes cardiovascular disease, diabetes, stroke, and high blood pressure – this is known as the oral systemic connection. Being proactive about your oral health also means taking care of your overall health and well being.
Educating you about your oral health is very important to Dr. McKnight and our entire team, and we encourage you to contact our office today to schedule your next appointment and be proactive about your health.
Comments Off

on Dentist in Mesquite Discusses The Link Between Oral Health and Overall Health
No Comments
No comments yet.
RSS feed for comments on this post.
Sorry, the comment form is closed at this time.