February 27, 2017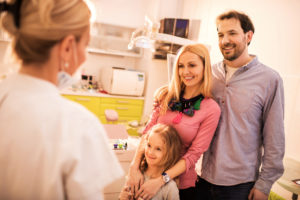 When you go to visit your dentist in Mesquite, Dr. Byron McKnight, you are not entering normal doctor-patient territory. In fact, you might like the ambiance and spa-like services so much that you just may find yourself creating extra reasons to come by the office! From the moment you walk through the door, Dr. McKnight and his team are available to attend to your every need. With Internet access, DVD's, aromatherapy, massage and even a delivered lunch, going to the dentist just got a whole lot more fun. The real bonus behind all the royal treatment is simply this: you also get the best comprehensive dental care to keep your smile healthy and bright. What more could you ask for?
How Often Should I See The Dentist?
While there is no perfect amount of set visits that are recommended by the American Dentistry Association (ADA), your family dentist in mesquite feels that, on average, two cleanings and checkups per year is best. Each person has different needs, and that is why you and Dr. McKnight will work together to determine what is the best treatment plan to maintain your optimal oral health. If you find yourself experiencing any dental changes at all, particularly involving tooth pain, it is a good idea to discuss this right away, as problems caught early are generally much easier to deal with.
High Risk Patients
There are groups of people who may be at a higher risk for dental issues, and would benefit from increased dental visits. The following is a list for those who may require more care due to changes in their health, habits or hormones:
Pregnant women — The American Pregnancy Association warns that the spike of hormones during pregnancy can result in swollen gums, increased tooth decay and sensitivity. Oral infections have also been found to lead to preterm delivery, so developing a plan with your dentist can help to prevent problems before they become serious.
Smokers — If you smoke, you are at a higher risk of gum disease and tooth decay. Smoking can dry the mouth and without adequate saliva production, bacteria cannot be effectively rinsed from the teeth. While it may be wise to quit smoking altogether, your dentist can talk to you about ways to care for your mouth.
Cancer patients — If you're undergoing chemotherapy, it is recommended to see your dentist before your treatment begins. Chemotherapy treatment can result in dry mouth and cause jaw stiffness. Your dentist should check to make sure no permanent damage is being done, and offer options that may increase your comfort and wellbeing.
Benefits of Regular Dentist Visits
Good oral hygiene cannot be underestimated. The pain, time and expense involved in fixing problems that could be prevented are well worth the effort. Here are a few of the benefits that good oral hygiene and regular checkups provide:
Cavity Prevention — The leading cause of tooth decay is due to the yellowish plaque that builds up around the teeth and gums. This acidic substance eats away at the tooth enamel, and if left untreated it can lead to cavities. Plaque can be removed by brushing, flossing and dental cleanings.
Stop Tooth Loss —Gum disease is the primary cause of tooth loss in adults. It often begins by a buildup of plaque on the teeth and as the gum disease advances, the plaque moves further down the tooth where it can destroy the supporting bone in your jaw. Eventually this can cause teeth to loosen and fall out. Your chances of this happening to you can be greatly reduced by having regular dental cleanings combined with good oral hygiene habits.
Brighten Your Smile — Drinking coffee, tea and wine or using tobacco can stain your teeth. A dental cleaning can remove built-up stains and leave you with freshly polished teeth. The result? A whiter, brighter smile!
Freshen Tour Breath — Good oral hygiene is the best way to prevent persistent bad breath. Even if you brush and floss regularly, getting a cleaning is a great way to keep your mouth healthy and odor-free.
Boost Your Overall Health — Studies have that overall oral health and regular dental cleanings may help lower your risk for some diseases, like heart disease and stroke. Many medical conditions, some of them life threatening, can be detected in their earliest stages by your dentist during a routine oral exam.
Questions?
We hope you understand that maintaining your dental hygiene is so important for your teeth, and if that isn't enough to convince you, then perhaps a massage and a comfortable place to hang out will seal the deal. If you have any questions or would be interested in a consultation with Dr. McKnight, please call our office today.
Comments Off

on Your Dentist in Mesquite Invites You To Take A Spa Day
No Comments
No comments yet.
RSS feed for comments on this post.
Sorry, the comment form is closed at this time.